The latest MOOCs announced not doing it for you? Well, you can shake and stir up a new one at http://mooc.cogdogblog.com.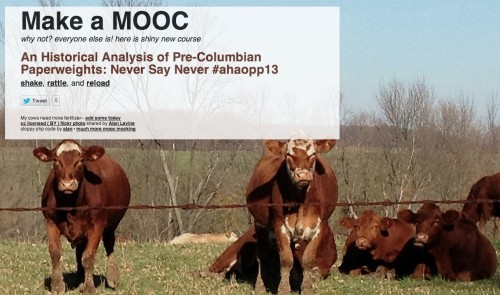 It all started with a tweet question by Audrey Watters
https://twitter.com/audreywatters/status/349623689488240640
Seriously, if The Rash of Khan is doing it, this is the enlightened way. For was we all accredibly know, he is "The Brave Knight who created Khan Academy, the antecedent of today's popular MOOCs."
It dawned on my that I had this random MOOC naming gizmo inside my lab at http://lab.cogdogblog.com/moocshaker – go ahead and click, it is redirected now to its permanent perch.
And it looks like Jen and Audrey stocked us with a nice bunch of new cow chow.
But wait, there is more.
I hung a bit of fancybox code on the site, so the "shake" link brings up the cows that say yup animated GIF
And the "rattle" link does a slide show with media from my collection of mooc mocking posts:
I'm pretty psyched to have myself fully engaged in my own MOOC subdomain.
Heck, I may just give myself a badge.