The last time I was home for a Presidential Election was 1996, when the other Clinton won.
Oh I definitely voted in every election by mail-in ballot. Let's peel those elections off…
In 2000, I was in the third leg of my 6 month sabbatical from the Maricopa Community Colleges, in Canberra Australia. According to my pre-blogging blog, on Tuesday of that week while the race of Bush vs Gore went down to the wire, was actually a quasi Australian holiday, another horse race the Melbourne Cup.
The night before I had watched the hilarious movie The Dish with my host "Big" Allan.
That day at the office where I was visiting at the Canberra Institute of Technology, we had a party, and I was put to work to pick the slips for the office pool.
I put $5 on a 100:1 long shot… who ran exactly to the odds. Dead last. Like Gore.
The 2004 Election took place in the middle of a 3 week visit to Auckland New Zealand, where I did a string of workshops for UNITEC and other schools. On the drives into the UNITEC campus with my host Richard, I remember being struck at how much the news on the Auckland radio was dominated by stories from America. I could not recall a time when New Zealand was front page news where I lived.
A second Bush term went down just like that dirty old tennis shoe smelling "savoury yeast extract".
For the next election I continued my stream of Out of the Country for Presidential Elections, it was the first week of my month long stay in Iceland, where I got to house site, take care of a dog, and count horses. And a few other things. But I do have a blog post confirming that I did vote.
And while Obama made history, on the day of his election I was showing of my WordPress sweatshirt, and ironically one of the photos most commonly used by catfishing scammers for their fake profiles.
I celebrated by enjoying the fruit my home town is named after, Jarðarber.
And talk about synchronicity! According to my flickr caption, November 4 was the first birthday of Skinna, the Icelandic sheepdog I was looking after:
She did not know what to make of my singing, but did appreciate getting extra amounts of her favorite treat- dried fish skin
For the next Obama election I was in Vermont, and while technically not out of the country like the previous three Presidential elections, it is a place unique enough to feel just a bit out of America. I was about 9000 miles that year into round the country travel, including the five months I lived in Fredericksburg.
That election week I was visiting Barbara Ganley, and it was there I decided to not head out to the Canadian Maritimes (which would have been like 900 miles from where I was, and instead headed home to hug a cactus. So it was a pivotal time for me at least.
According to my flickr archive, on election day 2012 I was observing the polls in Ripton, Vermont:
As you can see, Vermonters like Bryan Alexander take their voting seriously
I could have dug in the way before the internet way back machine– during the 1988 Presidential election I was in a remote area north of Bishop California doing field work for my Geology MS theses. Without a blog, and a smattering og photos, all I have is this false color photo of a little oasis I camped at called "Fish Slough":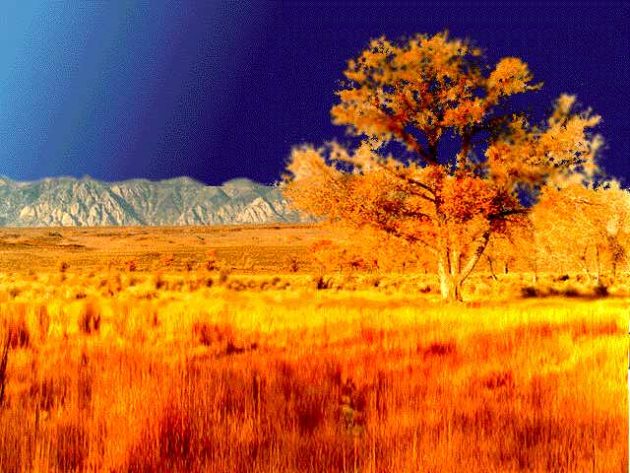 The day after the election I drove into Bishop to restock on food supplies, and the way I got the news was not twitter, or email, but by radio. Bush had demolished Dukakis, and I felt relieved to go back to the off the grid wonders of a place called "The Volcanic Tableland".
Looking ahead, my November 6, 2016 photos will be right at home here in Jarðarber Strawberry, Arizona, hopefully watching that terrible apprentice get fired.
---
Top / Featured Image: Public domain image of the Bill Clinton / Bob Dole debate during the 1996 elections. The image is from Wikimedia Commons.