I am still bleed Apple colors, but I have a new TabletPC for working with some new pen based applications (see what is on the screen. It's a strange world indeed

I'm still trying to get familiar with the TableTC environment with this new HP tc1100… no I am not abandoning my primary development on my Powerbook– this machine was purchased specifically to be able to do some R&D work with TableTC applications, primarily the MagicPaper on that we are piloting as part of our participation in the MIT iCampus Project.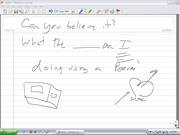 To that end, I am creating a new "R&D" category on this blog as I delve into these new technologies.
The pen based mousing makes me feel like I've gone back to my first trackpad experience. The device is pleasently tiny, yet the swiveling screen back and forth is not quite natural, but should come with time. I have already used it to write some meeting notes, and there is soemthing attractive about not pecking notes as letters (as a horrific keyboarder I am) and instead writing by hand on the screen.
Anyhow, MagicPaper is an interesting application designed for teaching Physics. The Tablet is used to create primitive objects (balls, walls, slopes) etc, assign them material properties, connect them with things like springs and ropes, and then apply forces. You set them up, and then set it in motion, and more or less, it is a virtual physics lab. I'm just messing around making silly Rube Goldberg like apps, but I am very interested in getting this into the hands and eyes of our physics faculty.
This is just my first MagicPaper attemp before it is set in motion… I'm trying to figure out how to do some screencasts to record how these are built.