The newest mind-blowing add on for del.icio.us users must be Revealacious billed as "revealing the way you use del.icio.us":
Revealicious is a set of graphic visualisations for your del.icio.us account that allow you to browse, search and select tags, as well as viewing posts matching them.

* SpaceNav (demo), which allows you to explore the structure of your tags in a rather recreative manner.
* TagsCloud (demo), which is an interactive and enhanced version of the tagscloud available in del.icio.us
* Grouper (demo), which is an experimental interface for grouping and working with tags.
More or less, you plug in your del.icio.us account details, and this site provides some interesting graphic tools to "reveal" relationships in your tagging methodology (or lack thereof?). On a quick toor, SpaceNav, provides an interactive view of how your tags are inter-related, so starting with my tag for "blogging"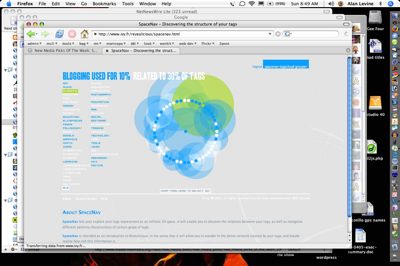 Rollovers on the small dots in the circle dynamically change to visually reflect the relationships with other tags that I have used– I am guessing the goal is to develop some patterns that emerge from one's own tagging habits.
The TagCloud tool is not the same one you might be familiar with that just shows larger text in proportion to frequency of tags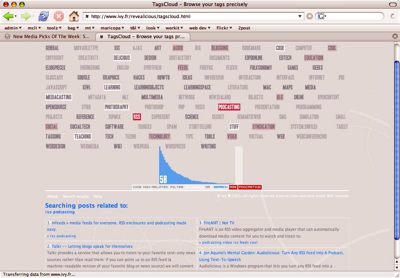 Each click on a tag changes the other tags to give a sense of their connection (or not)– but the unique things are clicking multiple tags to see the relationships that emerges, for example above, my tag clouds for "podcast" and "rss". Then if you click the search button, you see all the sites tagged as indicated above.
Lastly, the Grouper tool does a few things in one interface.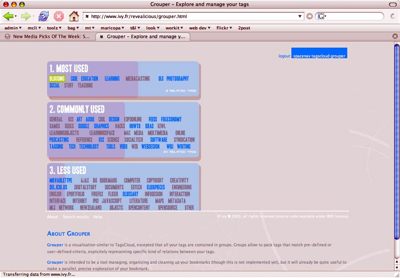 At a high level view, it provides a snapshot of highly common, common, and lesser used tags by placing them into 3 groups. This might help you clean up less frequently used tags. But it gets more interesting as you mouse over tags, and color bars are superimposed on the 3 groups to show how many other tags in that group are related to the one under the mouse.
This is another thing that is cool and beckons for more than this cursory look. Visualizing the data this way potentially can reveal things not apparent in a large pile of data, but better yet, this is all made do-able because del.icio.us exposes the data to external applications and developers who cook up groovy things like Revealicious.
A tip of the blog hat to Robin Good for his Sharewood Picnic Number 18, a weekly feast of provocative sites. Yum.