We announced to Maricopa today the availability of our MCLI iForum at
This is the first online version of the print publication we've run for many years.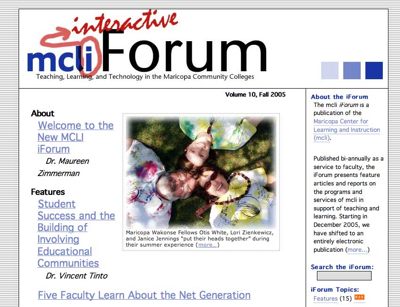 This is all built in WordPress. Our hope for upcoming issues is to have people submit drafts remotely, but with a time press, we had folks send drafts as email and word docs. However, internally, we used WP to do the cleanup editing, and that worked out well.
As much as possible, we tried to get away from the tone of third person dry reporting, and aimed for some more reflective type articles. We are encouraging with some leading questions (ahem, outsiders welcome too) comments/feedback via the comment box. I've used the subscribe to comments plugin to make sure all authors get notification.
Features include:
Update:
On the first day we had a grand total of one comment posted… well there were two other spams submitted. I decided to make all comments moderated, so keep your pills, porns, and casino stuff in your own house.