One of the joys of flickr is discovering new features the web elves have slipped in in there. The one I discovered likely has been there a long time… but I just noticed then when you are viewing an image that is part of a set, say one of my flower shots of a tulip out of a set of flower images, the little icons on the right and left can be used to display the adjacent photos in the set (a browser reload).
Well, Doh! I just noticed the little more links below: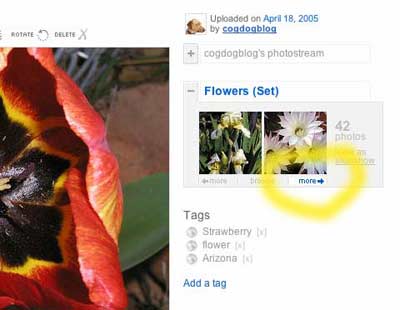 and these allow you to scroll through the thumbnails of the set while staying in the same web page. Outstanding! This is a much better way to browse a set.
I am fairly sure flickr was the first site I had used that had AJAX technology likely before it was called AJAX. I remember it from the way cool way you could do in-page editing of the title and captions.
It was web design black magic. Alchemy! Why you could create web form interaction without a series of web page entire reloads!
The fun of flickr discovery seems like it never ends.
Like finding delivr– a way to send email postcard like messages that use flickr images.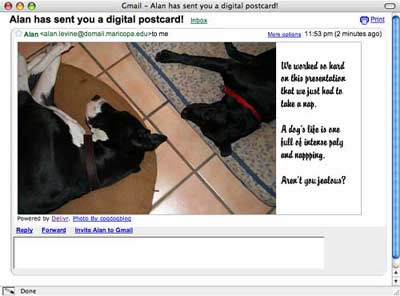 Rats- it does not catch my darn typos!