Cocomment is an interesting web technology that does some neat things but perhaps is not so wide it used to reach a next level of progress. It acts as a service of sorts, to tackle the age old (or 3 year old) problem of not knowing what happens to the "conversations" you leave as comments distributed on other blogs. It aims to register your commenting in a way that allows you to track it.
On first iteration, it required you to click a JavaScript bookmark tool for every new comment you posted. ( forgot to do this 9 out of 10 times. Then I got clued into a Firefox Greasemonkey script that automated it. I worked well for a few weeks, then Cocomment changed and the script got more wonky. Then following a clue from Amy G, I found coComment has developed its own Firefox extension that sits in the bottom of your browser, works reliably, and gives you a visual clue when your cocomment streams have some new additions:
Cocomment tracks your comments, and those by other cocommenters who are in the same conversation in a public page, e.g. http://www.cocomment.com/comments/cogdog. I have it as an RSS feed in my aggregator too, but as you can see, my own stream is pretty much my comments and the ever prolific Gardner Campbell, a.k.a Dr. Glu (another story). So in the hand of a few users, you do not yet have (or I do not have) the Wisdom of Crowds thang.
Gardner is a grand commenter, with zest, irony, insight, and clever references, he comments all over the web… and he uses cocomment to syndicate his external activity in the top of the sidebar of his Gardner Writes blog
There is a new feature, where cocomment lists your "neighbours" (apparently this is a British feature?) – the co-comment pages of other users who have commented on the same conversations: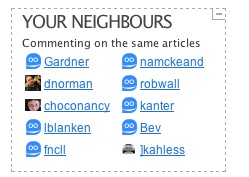 Potentially, it might provide that hop, skip, click way to find interesting content and people the same way surfing del.icio.us taggers does.
And "tag!" you're it, you can now "tag" your co-comments (I have not even wrapped my head around how/why I might do that:)

Bottom line, cocomment does something neat, it aims to connect a strand of external content that are usually not connected, it is evolving new features, yet I am just not absolutely sure if it is finding the "sweet spot", the so-called Tipping Point into Something Really Big (That Might Even Be Bought By Yahoo/Google/Microsoft/…..).
But I am using it, keeping an eye on it.