I've seen those little world maps on other blogs that show where people are visiting from.
Pffff, I may have said, what sidebar clutter fluff. Extra bandwidth ego churning.
But recently, I was sharing some of my favorite ed-tech blog links with a colleague, one of them Josie Fraser's EdTechUK, and my colleague was rather impressed with her blog's ClustrMap. Holy smokes! The small map on your site is not even visible due to the red dots, and the bigger map has her readers' located almost everywhere (well, Josie, to be honest, you are a bit thin up there in Siberia ;-)
So being the curious type, and ignoring the curiosity and cat warnings, I checked out Clustr Maps — which says "beta" but heck, flickr was like 80 years old with a beta stamp and still wearing that after being munched up by Yahoo. It's pretty easy to set up a Clustr Map, enter a blog URL, and email, it generates a login for you, then you get some cut and paste code for your site, and off to the races.
Hmmm, in the first few days, a smattering of dots: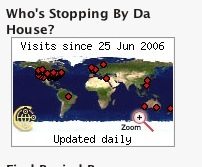 I can almost put some names on those dots. I know who you are! Well heck, keep on coming back! Please?
They are pretty tiny and spread out on my big map…
So yes, its not perfect, since it ties geo-locations to IP addresses, but heck, it seems good enough. There is a real boost to see this information visually. And now I am hooked in heading back and seeing the dots grow. I need a whole lotta dots to catch up to Josie (I hope my fans in Siberia are reading this). So c'mon, get of of reading the RSS feed, click on a story, and register me a bigger dot.
Please?
Gotta give it time.