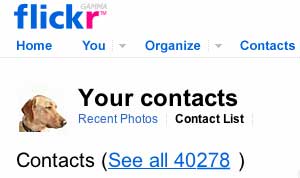 I'm curious about other flickr users behaviors… When you get an email notice that someone has seleted you as a contact, do you:
* immediately accept ("I want to be friends with everybody")
* check out their photos first ("Oh my gawd, they collect photos of ________!")
* wait a while ("I am trying to get some work done!")
* delete and ignore ("Eww, yuck, people!")
I almost thought about titling this, "Are You a Contact Whore?" but that's a bit tawdry, eh?
The reflex is usually one of "Ahh, that makes my ego feel niiiiice, ooooh, more please", and to take action right away. If I cannot tell who it is (which is hard form flickr user names), I do check them out, but nearly always I reciprocate.
Yup, I might be a Contact ______.
But this FOAF (Friend of a Friend) concept is an underlying thread to tools I've gotten addicted to– not just the ego stroking, but the power that comes from making connections with people you both know and don't know, and more so, using their network as a farther reach of your own.
And you really do not find anything like this in typical "educational" software, eh?