Someone should be worried. With just a few sniffs, I might be getting hooked on Google Reader for my RSS habits. I've not really like using web-based RSS readers for scanning, as checking each site's news required a wait for a web transcation, whereas a desktop reader grabs allt he stuff quickly, or in the background, allowing me t paw through it quickly.
But Google Reader's ajax scented interface is fast. And the keyboard shortcuts make going through items even quicker than my desktop reader.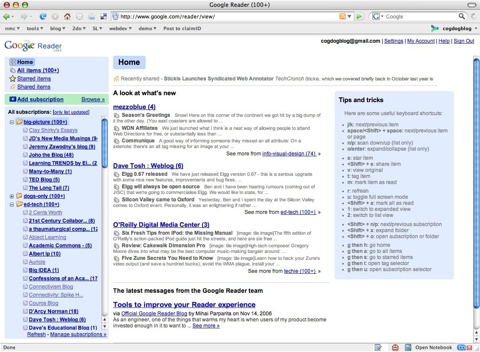 First off all, there is easy in and easy out via an OPML input/export of your feeds. So I was able to grab my list from either my Bloglines collection or my desktop reader's export functions, toss them into Google Reader, and was off to the races. And it kept my folder structure for organizing my feeds. And you can select an entire folder to see all the news from that folder's feed contents, or an individual feed. You can get the full contents view, or if you are a headline scanner, you can toggle to a list view:
And a simple press of the "k" and "j" keys lets you pop open the next or previous story:
And other key presses all you to mark them as read/unread, mark as special with "stars" or "shared" (more below). You can add tags of your own choice, allowing creation of cross feed collections. You can mark all as read or unread/ The left pane allows you to see all your feeds, or just the ones with new stuff.
But what os really cool, is Google Reader offers tools to share your feeds, categories, starred or shared items. So I started keeping a collection of my "shared" items, for which you get a direct URL to share as well as an RSS feed. So in a very easy manner, you have all the functionality of a reblog site.
But wait, there is more.
For the shared sites collection, there is also an option to "add a clip" to your blog or web site; Google Reader creates a cut and paste Javascript so you can embed the latest stuff right into your site– I have added it to the front page sidebar of my blog here, using the 5 most recent shared items. Heck, this could put my own project out of business.
Oh yes, there is more. The public and clip features are also available for each "folder" of feeds you have (or tags you have created), just by changing their status to "public":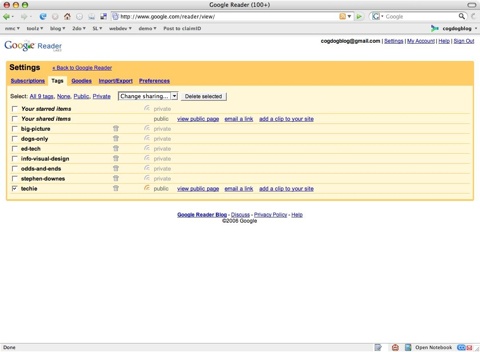 I came across this most recently on the New World Notes site, where Wagner James Au reports from Second Life- he has 9 of these separate instances on the sidebar, w/o much page load delay.
This is just things I have sniffed in my first 45 minutes of play with Google Reader, but wow, I am in looooooooooove.