Since I mentioned in passing about Pachyderm, I recalled I have a small published example for those who have yet to see what it can do– this was for a panel session at the Pachyderm Users Conference, where I was asked to give some "expert" tips.
I have "expert" in "quotes" since I know just enough Pachyderm t teach the basics. But I leaned back, and pulled together 3 tips, and rather than showing software in Powerpoint (again, one one of the more banal uses of PPPPPPPowerpoint), I did mine in Pachyderm itself. The demos included:
Breaking Out of the Box – most images imported into Pachyderm end up as rectilinear shape (squares, squares, squares). By exploting the default white background of Pachy screens, simple cropping out of backgrounds or rotations plus drop shadows in PhotoShop add a whole lot more interest.
Leveling Out audio with the Levelator – I have waxed on about this amazing tool more than once (and will keep on doing so), I used two sound files (before and after) with a screen capture of the waveforms in Audacity, to demonstrate the magic this tool produces.
Faking a Hotspot Screen – The original pachyderm software had a great screen type where the author could indicate hotspots that would produce new information and graphics on mouse roll-over (a la a flickr note). This screen is still bein developed, but with some waving of the arms, a sout of "Alakazam!", a slider screen, I proposed we could fake this functionality.
Okay, check out this never an award winning presentation, laced with Creative Commons flickr photos: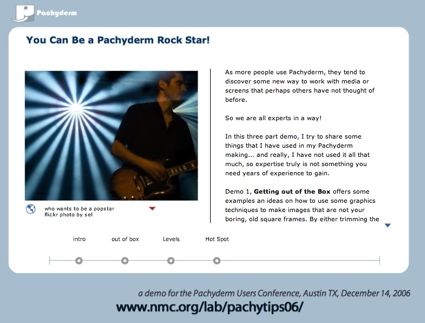 http://www.nmc.org/lab/pachytips06/
But really, if you want to see some real stunning examples, check out the Pachyderm Showcase or the fabulous productions at SFMOMA (the source of the original software).