More nifty sites marrying live data to maps – WeatherBonk
Weather Bonk is a mashup that lets you view real time weather information on a map. This can provide some very interesting information, particularly in areas with microclimates, such as San Francisco. For example, summer in San Francisco can be particularly cold and foggy, and this map can help you to find a sunnier area of the city to visit. Clicking on the web cams give you a visual observation from a given location. Looking at wind direction can help you locate approaching weather fronts.

The data comes from a combination of personal weather stations that are run from homes and schools as well as national weather services. Weather Underground, Weather Bug, Citizen Weather Observer Program, and National Weather Service are four of the major sites that compile this data.
You search on cities, place names to set the location with your typical GoogleMap tools for Zoom, Pan, and toggle between Map, Satellite, and Hybrid views.
So checking on the conditions for my Cabin near Strawberry, I get:
We don't have a lot of nearby stations, but clicking any of the live temperature values gives you details: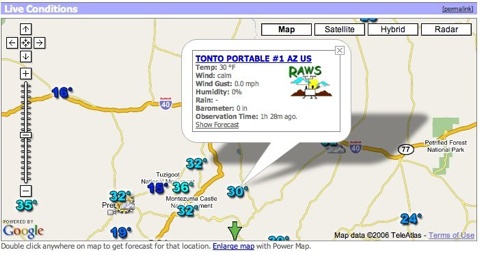 The Radar map view overlays current data for any chance of precipitation:
And for fun, overlay with the Hybrid satellite + map version (Baker Butte is a Forest Service Lookout tower on one of the highest points of the Mogollon Rim, well over 7000 feet elevation):
There's a lot more under the hood… local web cams, exports to GoogleEarth to overlay weather data on other scenes.
Mashups, more yummy than cake.