Woah, and before I thought gliffy was the best thing since (well I still like it for doing flow charts)… but the new fauxto (in beta, but open to play) is way beyond what I ever thought you might be able to have for paint tools as a web app.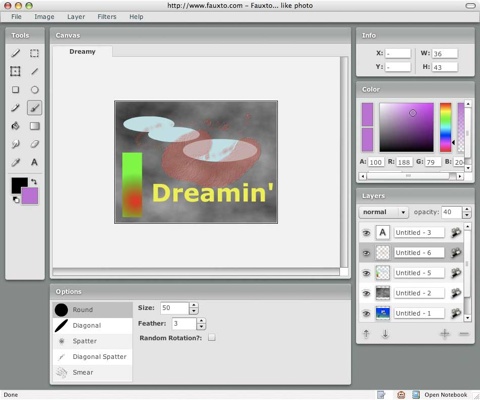 It is PhotoShop (lite) in a web browser, but you get paint tools, crop, text tools, smudge tool, marquee selection, canvas resize, color pickers, eye drop color picker, background/foreground colors, layers, layer opacity, filters, gradients, feathering, freaking LAYERS!
So definitely it won't replace PhotoShop, but for anyone on a budget, needing to do some basic image creation, for students, for anyone who wants to make awful and amateur images like mine, it may shine. Under the hood it is done in Flash.
Nifty stuff!