For the Google sketchers, mappers, and fans who want to earn a trip to the Googleplex, see Show us your university campus in 3D:
Today the Build Your Campus in 3D Competition begins. This spring, you and your (presumably equally artistic) friends can honor your campus turf as you hone your 3D design skills just by modeling your school's campus buildings in Google SketchUp, geo-reference them in Google Earth, and submit them through the competition website to earn lasting online glory. And the winners get a visit to Google, all expenses paid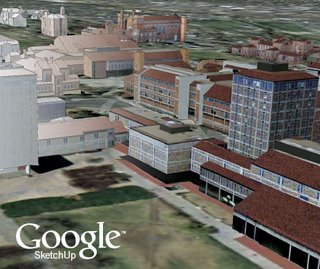 Is that Stanford?
That's right- plant your uber campus in Google, and the gold might be yours…
The top 5-7 teams (max 50 people) will win a 3 day trip to Google's Mountain View headquarters to participate in a workshop with 3D modeling experts from Google, get free airfare and hotel, food in our world-famous cafes, and a guided tour of our incredible campus. Oh yeah, and lasting online glory!
That is very cool. (a) I wish I had time to learn and play with Google sketchup; but (b) I no longer have a campus; yet (c) I was never really good with 3D. But it will be fun to watch the results. Sharpen up your 3D prims!