Note: I guess I was wrong here in my assertions below. Don't miss Greg's comment below. Can I still be eligible for the prize drawing?
Cue up the guitar riff from Warren Zevon…
Somewhere, several places in the world, there are scores of people who's job it is to scrounge the net for usage of words construed as "copyrighted". I have now had a second event where my usage of words as a metaphor has come under the scope, and legal threats arrive by mail. Previously, it was the Ripley's folks who suggest no one can post a web site with the phrase "Believe It or Not" — that any such usage tarnishes their austere image. So yes, last time this happened on a Maricopa web page, I just took them out of the picture (yes we succumbed to threats, but there is no gain in a long fight and it really mattered little).
This time, the knock on the door was from Publishers Clearinghouse, but it was not balloons and a giant check for me… well actually, I got an email from my colleague Eric back at my old office, who relayed that they had gotten a similar threatening letter. The offensive item was something I created for our Ocotillo Online Learning Group meetings, a flash app that we could enter the number of people in a meeting, and draw a number at random for a prize (we had people sign in on a list that was numbered 1, 2, 3, …).
You enter the number of people to choose from:
and it flashes random numbers available until Vanna clicks the "done" button- and the wining number displayed: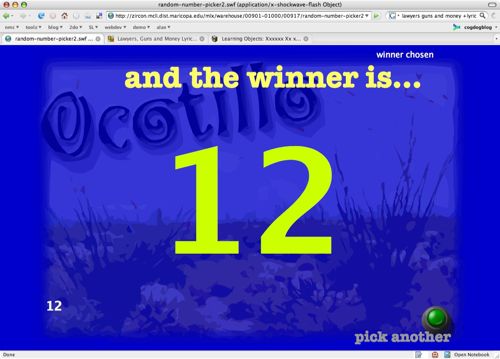 This app, a really crude Flash code job, was popular, so I posted it on the good old Maricopa Learning eXchange – http://www.mcli.dist.maricopa.edu/mlx/slip.php?item=917. The problem was I was not thinking and called it the "Prize Patrol Random Number Picker", and my swf files were named "prize_patrol.swf". There was no use of this term inside the actual content, just what I had referred to it.
So apparently, one must not use the phrase "Prize Patrol" for any public purposes, less ye be sued by hungry lawyers. My colleague asked if they should remove it, and I replied there was no real reason, just go in and change the names to protect the innocent. Now it is simply called "Random Number Picker".
So I guess the big Clearinghouse has stomped successfully on a school, and their name is no longer brought down to the sewers by use among a few teachers and educators.
"Send me lawyers, guns and money….", I'll take 2 out of 3.