I just love it when I find something cool on the web by accident. We Blog Cartoons does something almost no other cartoon site does– it lets you republish the cartoons without any copyright restrictions (how many times have you used that New Yorker one about "no one in the internet knows you are a dog"?)
"˜We Blog Cartoons"˜ contains cartoons by Dave Walker which can be freely reused on other weblogs.

How to use the cartoons in your own blog:

Either:

1. Save the cartoon onto your own webspace and then post the cartoon on your blog, keeping the credit line and link as it is. (The advantage of doing this is that you save me a bit of bandwidth cost and you have full control over the image on your site) Or"¦
2. Simply copy and paste the code underneath the cartoon in question. Simple as that.
So I just downloaded Procrastination by Dave (I could have copied and pasted the link code, but wanted to help with Dave's bandwidth costs)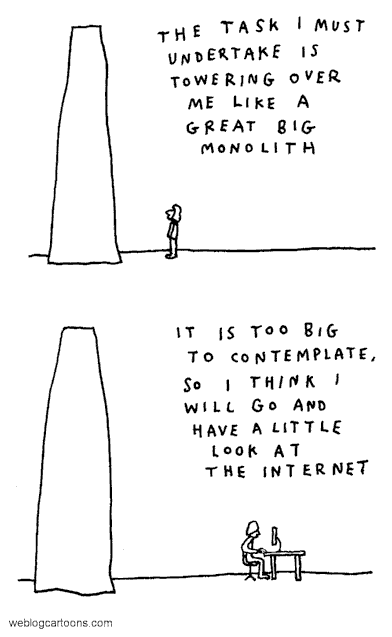 Cartoon by Dave Walker. Find more cartoons you can freely re-use on your blog at We Blog Cartoons.
This is just so cool. And I found it completely by click lluck as I had just referenced the dullest blog in the world, which contained the link to this cartoon site.
I love it when that happens.