I am being sarcastic, but am curious as to the point where we have so many social network tools, accounts, and activities, that we do nothing but link together. With some trepididation, I actually fell into two more today (LinkedIn and Twitter), with some interesting comparisons on the experience.
Over the past months or more, I;ve gotten a number of those invitations to join LinkedIn:
LinkedIn is an online network of more than 9 million experienced professionals from around the world, representing 130 industries.

When you join, you create a profile that summarizes your professional accomplishments. Your profile helps you find and be found by former colleagues, clients, and partners. You can add more connections by inviting trusted contacts to join LinkedIn and connect to you.

Your network consists of your connections, your connections' connections, and the people they know, linking you to thousands of qualified professionals.
And yes, that reads like glowing MarketSpeak. It seemed fro my rather uninformed outside view, that the sole activity in LinkedIn as adding to the number of people you were connected with, like the network itself was its own purpose. A number of participants, a whole lot, on the Second Life Educators list (stop the groaning, you SL crows, that is another post in the works) were sharing their LinkedIn accounts, suggesting it was a good way to network. And Barry Joseph shared a lot of concrete connections he has made through the network.
I can look past MarketSpeak, but when people I respect are dabbling in a new tool, I;m willing to take a look. I made some quick edits to a profile, and I am "in" http://www.linkedin.com/in/cogdog. Basically, it seems, LinkedIn is a ginat database, and it cross references the things in your profile to find others in your field, or who worked at the same MacDonalds you did, or went to your high school, and you can also explore the connections from those you connect with.
Sounds all very 2.0ish.
With a little effort of adding connections, I made 8 links, and am 3 links away from 38,000 people. Sort of scary or not.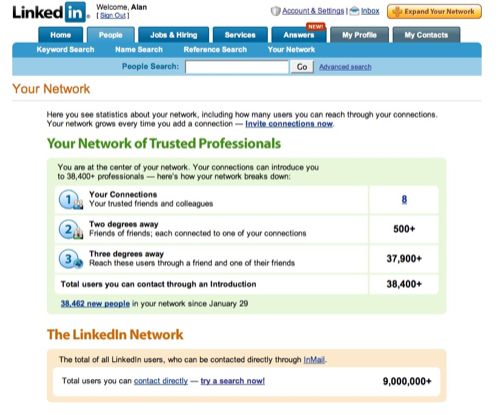 I've not spent really enough time in LinkedIn to understand all that it does, but hey, I will not a little bit of ignorance stop me from complaining. The thing I find just mind-numbingly Web 1.000000001 is the way you add connnections (I refuse to upload my contacts and spam those folks), If someone sends you the profile link, or you use the LinkedIn tools to search and locate others (it does a nice job based on your job title or places you worked before), you can get to profiles, and click a link to add that person to your network.
This is where it gets bad.
In most social network apps, like adding a flickr contact, you get to their profile, click add contact, and it takes care of the communication to the target. In LinkedIn, I am presented a web form.. and I have to drudge out from somewhere the email address of the person I am trying to add and type it in the field.
If I am in a hurry and do not customize the message, they get some trite canned message that sure must feel like spam in the inbox. The recipient then has to click a link from the email to accept the invite. This just feels so clunky– maybe I am missing the more direct route.
And also on the gripe end, various parts of the LinkedIn site keep forgetting that I am logged in. Without closing my browser all day, in may steps to add 8 contacts and edit my profile, I must have logged in 9 different times. How hard is it to manage logged in states with cookies?
Griping aside, I'm giving it a go, but am not going to devote a whole lot of time into being what one colleague has kindly labeled, "being a link whote".
But now for something completely different in form and function.
I had read about it before and brushed it aside. More or less, as D;'Arcy has termed it, it is almost like nanoblogging — posting very short, IM status like things you are doing.. on a continual basis. You can post via their web form (awkward) or by sending an IM to a dedicated account (that makes it easy) or via your mobile phone. So it enables very quick and easy "I am doing this now", a more dynamic variant peeking at the status window of your AIM Buddy list.
It almost reminds me of one of the examples I use when presenting about blogging about how NOT to blog- the Dullest Blog in the World where it has inane posts dated about every 3 minutes.
But twitter offers a social network thing where your contacts twittering can be rendered in with your own. I got nudged today by Cole, who actually has taken a bit more of a look at it with his Penn State colleagues. So yes, it is easy to dismiss as silly teen like wast of time activity, but maybe there is something to be abel to quickly notify colleagues of statuses of projects, or when they need to run out of the office, or whatever. I'm being open to some possible use.
So while Cole was inviting me and D'arcy to try Twitter, he twittered it himself: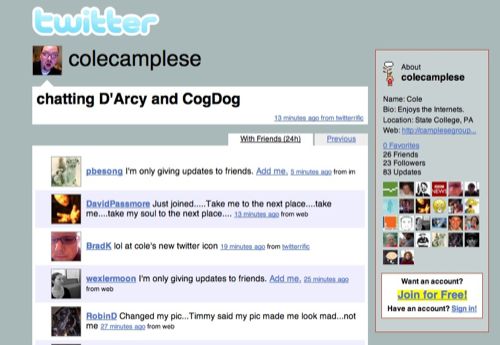 His most recent at the top, and all the twittering of he and his contacts run below.
And once you find how easy it is to post from your IM client, it gets rather addictive (you can even set Twitter up to IM you or send a TXT message if you've not twittered in 24 hours. Or you can get IMs of all your friends twitters in your IM client or your phone (no thanks, too much social networking coming in).
And Twitter provides the key customization to your own profile — mine is twittering at http://twitter.com/cogdog/: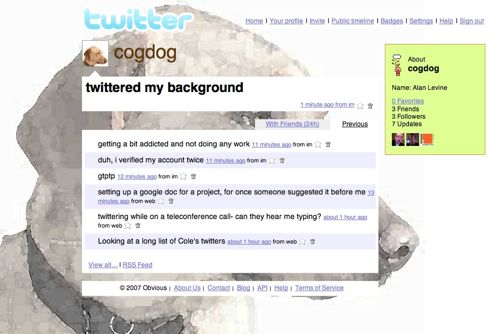 But what twitter does soooo much more fluidly than LinkedIn is enable the adding of contacts via just a single web click, either on the Add Me link in someone else's Twitter Stream, or the little icons on the sidebar. That's it. One click social networking. No fumbling for email addresses.
And oi, it can be very addictive. Watch your time.
I had really dismissed both of these tools when I heard about them, yet a little digging and not being totall close minded has yielded some interesting results. But their entire approach to Social Networking really show a marked difference on which side of the Web 2.0 timeline they started. Not good or bad, just different.
Enough blogging, I got some twittering to do.