I'm biased towards Google Reader as my current tool for swimming through RSS feeds. That's not to claim that My Reader is Better Than Yours, or My Reader Can Beat Up Your Reader. I like what I'm getting out of it, and it works for me. I've ignored the link for a while listed under See personalized trends for your subscriptions and read items, but took a peak today.
So Big Brother G is monitoring what I'm reading, sharing, starring, but I've got nothing to hide. It provides you some data on what feeds you hit a lot, and which ones you read versus skim, all nicely Ajax tabbed. Or ones you skim lightly, since I read lightly:
So I am reading less than 40 items a day ( thought it would be more), though it is questionable if I am reading these versus looking quickly, and mostly headline scanning. The right column gives a sense which of my feeds are heavy publishers (13+ posts per day? Lifehacker). Also useful is the tab for inactive feds: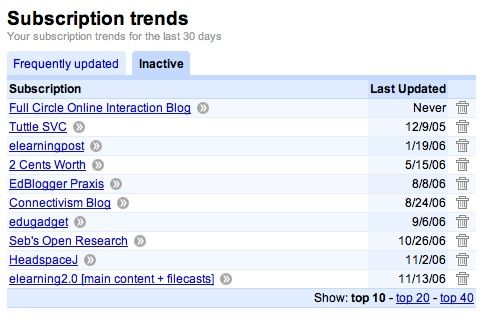 This has helped trim the feed list, and to correct at least 4 which I had previously had a wrong or out-dated feed URL. I dumped a few dormant feeds as well.
Good reader.