Doh!
Sound of blog remorse!
In writing about the CNI Horizon Project presentation, I was remiss in leaving out one of the coolest discoveries — that Vicki Davis (coolcatteacher in georgia) and 4 other secondary school teachers in Austria, Bangladesh, China, and Australia are doing another fabulous Flat Classroom project — and this one they are having the student groups research and write about the future of education, technology, and society using as a framework the 2007 Horizon Report.
Check it out at http://horizonproject.wikispaces.com/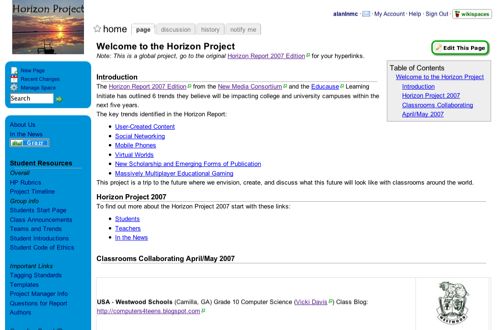 It's just getting started this week, but we're very excited to see this unfold. They are using WikiSpaces, blogs, RSS, del.icio.us, Ning, grazr, twitter… and more to work on their projects.
And as a P.S. — the way I found this project was via a link in Vicki's twitter stream … so that is one of several Positives Outcomes From Twiiter just in the last 2 weeks.