Yesterday I co-presented as part of four amigos for MacLearning Environments on (Many, Too Many?) Small Technologies Loosely Joined: Open, Connected, and Social. This was carried out via Elluminate hosted at the University of Calgary. The players were D'Arcy Norman, Brian Lamb, myself, and Jim Groom and we had a nice peppy crowd show up there.
When we brainstormed our topic, we ended up nostalgic and reflective of a show three of us did way back in 2004 on connecting decentralized web content with RSS — "Small Pieces Loosely Joined"— and almost laughing at how primitive some of the tools were back then! But the approach still rings true for us, maybe even more so today, that the path is not with large controlled systems, but the use, re-use, of separate systems and tools that we can connect using powerful underlying protocols like RSS and OPML.
The approach for discussing this was we each took 4 corners/topics, and wrote up some stuff on a wiki site– with D'Arcy screensharing,, and clicking the visuals as we bantered. Jim was first, talking up the blog+wiki or bliki or ??? combining his folks are doing at University of Mary Washington. Next, DJ Lamb was on to groove on mashups. D'Arcy was showing some eye opening new things he was going with BlogBridges library to pursue the elusive EduGlu concept. For some bizarre reason, I opted to take on Social Connectivity.
For my piece, I did not even aim to cover all that is possible on social software or social networking tools (15 minutes on the clock) – instead took a bit to contrast my experience in creating connections between LinkedIn and Twitter. And because it is hot, not exactly a quick leap to connect to education, I chose to focus on the intrigue and curiosity of twitter.
As hopefully seen as a nod of appreciation to the style of Kathy Sierra, I did a cheap knock-off graph: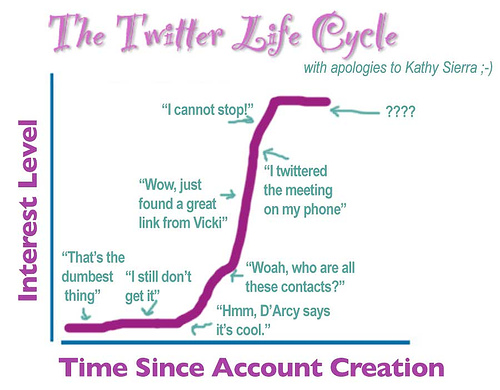 which I have both experienced and continue yo watch others go through. This is meant not to be a precise prediction, but I see it is a helpful way to remember to approach technologies with an open mind before jumping to conclusions (not that I have that perfected!)
When I first heard about twitter, it reminded me of the Dullest Blog in The World, but my spark was following Cole's line of interest and experimentation. So I quickly talked over some of the growing list of twitter viewing/publishing tools and interesting things people are doing with twitter. Wow, the library in nearby Casa Grande Arizona has rigged a library RSS feed that auto twits. Twittervision is hypnotic and becomes yet anther net-addiction. John Edwards has 2228 friends. Andy Carvins ponders if twitter can save lives? Churches are tweeting while others look at ways to use it to monitor server status.
In the end, I diagnose myself with SNF: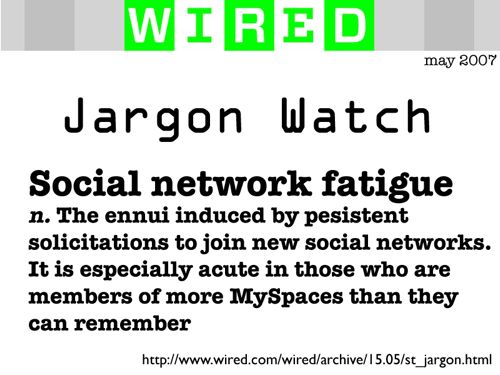 This was a really great jam session for the 4 of us (and let's give El Guapo a hand for chiming in from the audience! He's an amigo.
We all got a lot out of planning and discussion, and thinking of what the small pieces approach might mean. It's not a panacea, not a magic bullet, but seems an intriguing and appropriate way to think of content, information flow going to the next decimal point in history.