I am in danger of become a twitter centric fool. While others have identified it as having jumping the tuna, my own volume of twitter contact notices (must admit, I don't add them all) has spiked significantly. Here in Arizona, I'd say Twitter has Jumped the Gila Monster.
Another cool tool…
TwitterCamp is a free app that allows you to create a giant (or not so giant) screen representing a fluid display of Twitter activity:
TwitterCamp is a desktop application that allows you to monitor tweets from your friends using the popular Twitter service. The application was built for the ApolloCamp mini-conference and uses the recently released Apollo runtime alpha and Twitter API. The application is especially suited for running on large displays such as plasmas, LCDs, and projectors at conferences. It is simple to customize the interface so that you can use the application for your conference.
I downloaded the Apollo run time the ApolloCamp app, and instantly had a cool screen with tweets form my contacts: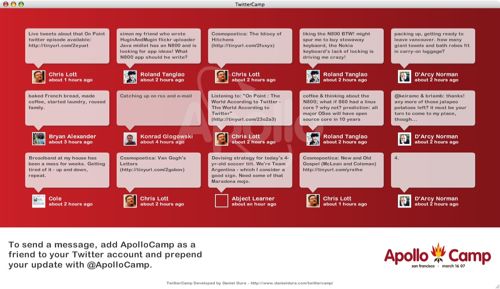 I can see having something like this available at meetings, conferences, tech demos as yet another way to show dynamic social tech in action. Roll in another big screen for twittervision. Next is to look for closely at the options for customization.
Until know, I've not been paying attention to Apollo, but its got my ears perked up now. Small desktop apps, cross platform, web enabled…
Very cool. Linktribution to Tim Lauer (again!)