I love it when curious link clicking reveals unknown gems! It happened again just an hour ago, with the result of a great video collection tool.
Almost by sheer accident- discovered following a tweet by Judy O'Connell to her web 2.0 presentation on Slideshare, that I came across this nifty new site, vodpod. Here you can create your own "pods" of video collections, and with their one click browser tools, you can create collections of web video from 1000s of different video sites, YouTube, Google, MySpace, just about anywhere that embeds flash video.
You can do some customization of your "pod", have categories, tags, comments– and it provides a cut and paste method to embed a "widget" in a blog- see the sidebar here under the flickr images, showing the most recently added videos.
This is perfect for upcoming October workshops I am doing in Australia, under the pseudonym of CogDogRoo. So of course… I had to "be there" and try this thing, creating my CogDogRoo vodpod at http://cogdogroo.vodpod.com/.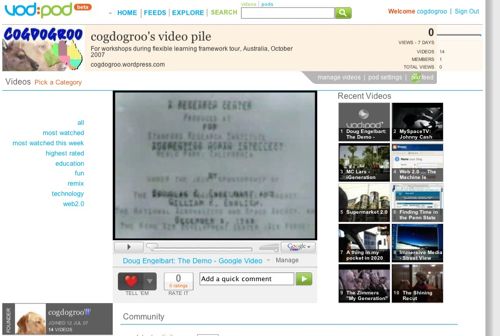 In a few minutes I added some that were in my YouTube favorites collection, plus another from MySpace, and Google video. The point is in workshops where people will be exploring web videos, we can build a shared collection, rate, comment, share the videos. And it seems to be completely agnostic to different video sites.
Looking forward to playing with it a bit more. Great tool! Thanks, and linktribution to HeyJude!