There's no shortage at all of cool new tools to create and express yourself on the web. I came across Voicethread via a link from Tim Lauer (linktribution!). From its site:
A VoiceThread is an online media album that allows people to make comments, either audio or text, and share them with anyone they wish. A VoiceThread allows an entire group's story to be told and collected in one place.
Basically you upload photos (integration from flickr allows you to pull them directly from a set there, nice), and the flash editing interface allows you to add audio narration to images, which play back as a slideshow. I took a brief tour of the features via the What is a VoiceThread anyhow. The zoom and pan capability on the images reminded me a little of the feature in the Pachyderm software, not quite the level of zoom that Pachy has, but when I think how easy it is to create in VoiceThread.
But what caught my eye and ear was the power in the demo of having multiple audio voices- especially on "the photo that launched a thousand ships" in this demo- a hilariously time set image of a 1960s vintage family: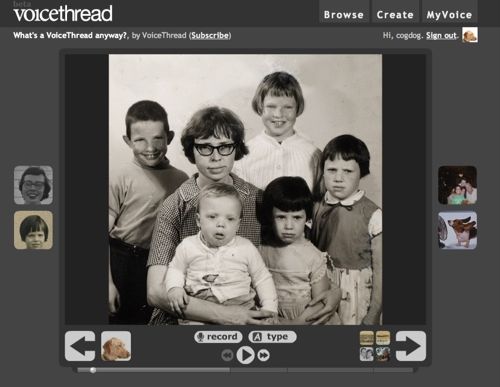 or as the mom describes via audio, "I'm the happy mother here in this picture of these children, some of whom… appear to have anxiety disorders… I don't know why the look unhappy, because I'm their mother- and they should be happy."
It just struck me as a rather easy tool to put together powerful combinations of digital images and audio. It packages it as a link that can be shared, or embedded in any web site via some cut and paste (The YouTubization method– it ought to be expected in anything that allows yo to create re-purposed media content).
To have a play at it, inspired by Dean's recent efforts to collect the desktop photos bloggers use on their computer, I uploaded about 6 of mine, sorted them into some order I liked, then walked through and added audio annotation to them:
Full sized version: http://voicethread.com/maker.php?b=2956
The options you get when you share a VoiceThread is to allow others to leave audio or text comments (They need to create an account to do so, I believe), which makes for yet another level of curiosity on how to create media that can involve the voices of others from near or afar.
So yes, one could do a presentation here (record audio for each slide), some version of digital storytelling, perhaps some collaborative discussion around images… there are many creative possibilities for what is really a nice, simple tool. Easy peasy to use.
Just for fun, I took another 10-15 minutes and rendered another VoiceThread based on the fake science fiction covers I created for the presentation I did with Brian Lamb back in 2006 for the EDUCAUSE ELI conference – with this one, I grabbed the images all from a flickr photo set, very easy peasy, and added some descriptions about each fake book cover:
Full sized version: http://voicethread.com/maker.php?b=2957
Did I say how easy these were to make?