Tweetscan is "a real-time search engine for Twitter posts. Beyond that, TweetScan can do your searches automatically and email them to you".
At the ego level, you can use it to search for tweets directed at yourself or make that, myself.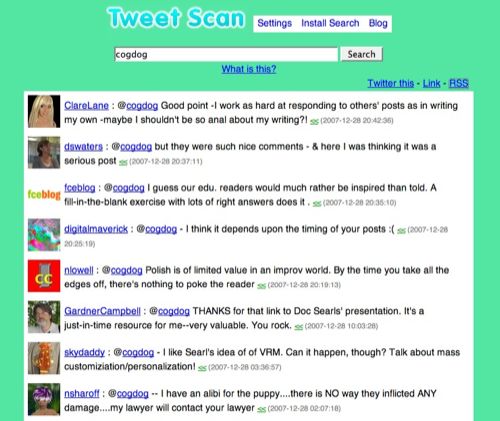 So this is extremely useful to track replies people may make to you who are from people you dont follow directly (oh my gosh, I just admitted I dont return the follow favor…. alot). And even more, you can get an RSS feed for this, so you can track ongoing.
But you could also use it to track key words or trends across twitter space. Heck, this site created something twitter itself ought to do.
But crap, they still cannot list your followers in alpha order. WTF is with that? I dont know what twitter is programmed in (smells like Ruby), but how freaking hard is it to toss in a sort() routine. I cannot even determine what order twitter uses to display my followers, on the sidebar or on the "following" link. There is no coding excuse for that. So I can only put on my conspiracy hat and surmise that they dont want you to easily locate the name of someone following you. Pfffffftt on that.
But I digress. Tweetscan us clean, elegant, useful. Sweet!