A long, long, long time ago (maybe not in a galaxy far, far away, it is about 90 miles from where I sit), maybe 2003, 2004, while in my role at Maricopa, I was doing workshops and trying to promote the potential of blogging (how novel, eh?). I created an online set of resources I called "BlogShop" …. = Blog + Workshop.
It was hosted in MovableType on a server I ran at Maricopa at jade.mcli.dist.maricopa.edu/blogshop :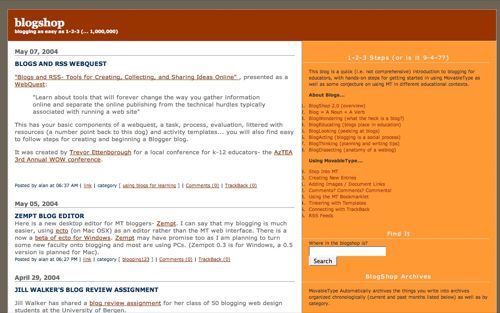 And that server has been 404 for over 2 years since I left my job there- praise the powers that be.. or rather Brewster Kahle and the Internet Archive's WayBack machine, I can access versions of all the content from Apr 2004-June 2006 or say enter the content (and link around) from one of the snapshots.
I am still very far from the point of this post, but I always need to underscore, emphasize, shout from a mountain top how valuable the Web Archive is. On countless occasions it has found web pages that have been removed/moved/changed (many of them my own), provided snapshots of web history, provided a version log of the web most of us rarely bother to do. It is an amazing gift to the world (have they gotten a Nobel prize or something? or did Peabody really invent it?). Make sure you have the WayBack Machine in your web toolbox.
Back to the story…
Not that I sensed a job change in the future, but maybe because Blogger was becoming a powerful, free, easy platform for educators, in 2004 I started moving the content to a Blogger site at http://blogshop.blogspot.com/: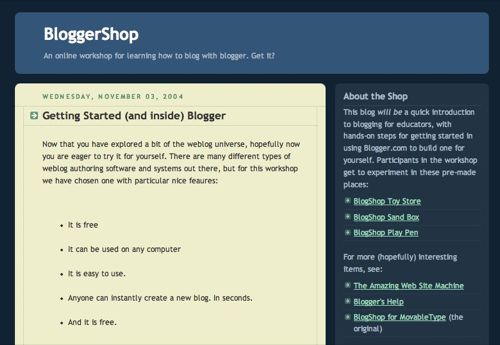 Though I did not get the job completely done. Somewhere I may have an export file from MovableType, but to finish at this point, I would be pretty much cutting and pasting from the WayBack machine.
So now, we are at the point of the blog post.
In a comment on another blog site, a writer asked:
Could you free up blogshop.blogspot.com? Since its been idle for quite awhile. I really need it.
And that is somewhat true– its been a dormant blog for, oh, 2, 3, years.
But hey, I got it first!
Am I squatting on the name? Not be intent, and I certainly am not looking for money, though my conspiracy oriented mind suspects it would be a good one for link farm spammers. I dont know, the writer never indicated the intent.
I'm inclined to just keep it. You deserve something for getting there early? I am not sure what it is, but I am curious what others think.