It's been a while since I barked about the clumsiness of LinkedIn but just had another one of those near deaths by lame interface design. But before that, i am still trying to fathom what LinkedIn offers beyond the ability to just link. It seems utterly recursive with no ending condition to stop the loop. I am sure I am missing the supreme benefit, and get tripped up by their spurious claims of benefit.
But the cart is getting ahead of the dog and we are barreling down a steep grade…
I was excited (and distracted from my morning off computer tasks) to find that the fabulous, my most favorite, set of flickr Interesting Snippet photos from Lynnette Webb is available as a book from LuLu (yes, mine has been ordered!) and I read that proceeds got to charity.
This all started when I was looking for the set to use as an example for a Bryan Alexander blog pst comment, so via Google I found she had a domain listed for http://www.interestingsnippets.com that leads to her "hub" with not only the flickr photos, but a tumblr thing and delicious bookmarks. But at the bottom was a LinkedIn badge, and I thought I would use it and maybe express my thanks for her work.
Now in LinkedIn I can get to her profile and then try the logic of "Add Lynette to Your Network". Seeing the list of options (note these screenshots say "Kirk" because I finally managed to get LinkedIn and needed to snap the original screen).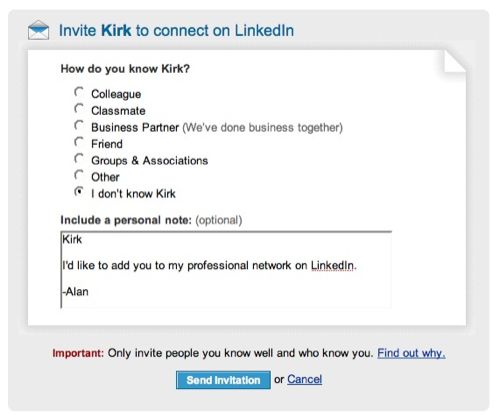 And being honest, I click the "I Don't Know Lynette (or Kirk or Stella or Frederica or …)" and compose my message of introduction.
And what do I get for making that choice?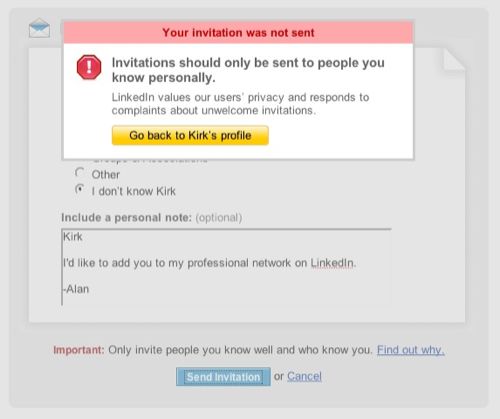 I get slapped across the snout, sent away, and whatever I wrote is gone!
So here is the interface crime- if something is not an option, than don't put it on the stinking form! That is just so stoooopid.
If you call this nitpicking, on one hand you are right. Her email was available on another page, which is all one needs to get past the LinkedIn Red Alert screen. And this is the whole crux of linked in- you cannot make a connection without knowing someone's email.
I think I can sniff the logic as people in LinkedIn are surmised to not want links from strangers, after all, if anyone can create a connection via a social network, what do you really have? (Facebook!)
But interfaces like this destroy the user experience and sap ones patience with a web site or service. Dont play monkey games with your interface as it is your only face to a web site visitor, and slaps in the snout leave a deep impression.
More LinkedIn spanking likely to come in the future. Easy target.