It was with a smile I just saw the title in my RSS reader that I knew that another initial skeptic, George Siemens, had followed the path I charted in April 2007 as the Twitter Life Cycle.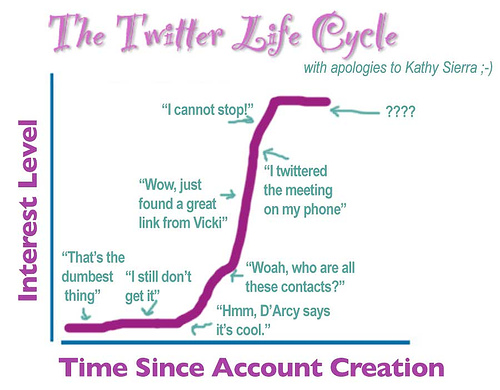 I have seen so many people, myself at front of the list, first see twitter and remark, "That i the stupidest thing I have ever seen on the web (well maybe after the hamsters)… who in their right mind would waste time doing this?". If they stay at it long enough, they climb the curve above, perhaps on a different slope and maybe not alway at a plateau. But I lost track of how many colleagues I have seen who have done this.
So George's post today inspired by to create a wiki where others can join the honorary list of People Who Climbed the Twitter Curve. So add your name today at:
http://cogdoghouse.wikispaces.com/TwitterCycle
Hmmm, I bet I will tweet this blog post..