Google's genesis was in well executed back-end server stuff (those precious search algorithms, they KO-d Altravista, Yahoo, Lycos) and at the time of ad-cluttered busy sites, it's stark simplicity design of plain text, one colorful logo, on a white background was the antidote to the web status quo.
But hey, its 2008, and there is no reason not to personalize your iGoogle home page experience with a little more color with the user generated iGoogle Artist Themes
Now you can put the work of world-class artists and innovators on your personalized Google homepage.
Below is what I use on one of my four browsers, 3 of which have a different iGoogle account (dont ask why)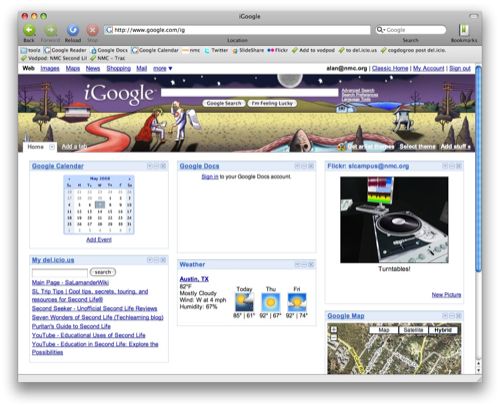 and I have a desert theme on my main one in Firefox. As a subtle nicety on these landscapish looking banners, the scenery changes with the time of day (my time of day, not theirs), so my home page now has a sunrise looking style.
Your home experience can be landscape photography, Asian comic art, or just LiveStrong w/ Lance.
Isn't this just wasteful window dressing? Web frivolity? The skeptic in the back of your education technology presentation leans back full of self servicing hypocrisy and says, "How does this promote student learning? Isn't this more of what in the old days of those mac applications were called "fritterware" – ways to fritter away your time?
An excess of capability that serves no productive end. The canonical example is font-diddling software on the Mac (see macdink); the term describes anything that eats huge amounts of time for quite marginal gains in function but seduces people into using it anyway.
(Hey, I think I know where they got the idea for the name!)
Those swipes are easy to take. But there would not be all of those iGoogle themes (and all of those delectable MySpace web designs) if our personal expression of who we are, or want to be, is not a core value. It's not trivial, and any software, project that ignores the desire to personalize a technology experience is.. well.. maybe a macdink.
Of all the people I did not expect to highlight this user experience so eloquently (well maybe that is not the right adjective, how about vividly) came across in when I ran the other day with my old MP3 recorder and found an old ITConversations recording of Ze Frank at a RailsConf session. OMG, that was brilliant.
Oops, this blog post has taken a ride on the tangent train. Where was I going? Oh well, I see my stop up ahead and am jumping off…
BTW, these iGoogle themes are all part of the Google Gadgets, which if I did not know better than to utter the term, seem to have a lot of the attributes educators once pontificated about as "learning objects" – small bits of easily re-usable code, though of course w/o any "learning" per se embedded, but there was no technology back in the LO hey day that even got close to this simplicity.
So go out there and grab a theme, no reason to be plain old white bread iGoogle (and for the Google Conspiracy Theorists, yes, I bit off on the red pill and they now own my soul, so what?).