It's been frequently noted that the response effect of twitter is not a simple matter of opening an account and yelling for help; as a new tweeter you get the tree-falling silently effect. That said, I feel overwhelmingly fortunate to put out a single request and get a string of responses. With this, and despite the annoying flitterings of the service, I must admit to my good friend and colleague Scott Leslie, that I'm not quite ready to lead a charge to another ship.
And even more warming, is that in the replies to my question today, I only know half of the responders. That's right, people I don't know are trying to help me!
One pitfall can be squeezing a complex request into 140 characters… i like the thought process of stripping it down to the bare essentials, lose the articles, commas, spelled out "and"s and get clever with abbrvs.
Today's tweet out was:
Know a youtube-ish sharing site for audio? NMC is sharing collection of loops recorded on Lennon Bus, want site for people to share mixes
My nearly perfect hindsight vision sees now I did not fully explain the need, yet i still got a lot of useful ideas. Here's the full story. At the NMC Summer Conference recently at Princeton, we had a one day event on the John Lennon Educational Tour Bus, we called Rock Hall 2.0 where we set out 15 minute time slots on our wiki people could reserve to go on the bus and record a sound track, vocal, or anything recordable to be saved as an Apple Sound Loop. The reference to the Rock Hall was referencing the 2006 summer conference in Cleveland, where we had a jam session at the Rock 'n Roll Hall of Fame — this is the 2.0 version of that, to be cliche.
So after a day, we have nearly 50 loops, some guitar, drums, vocals, and more. Some are really good, and then there are ones like mine that managed about 3 guitar chords. Recording a loop is not trivial for someone w/o good timing, because it has to be perfect in 8 beats so it can be repeatable or pitch shifted.
The idea is we will make these available, and with software like GarageBand or Logic Studio, people can mix and mash the sounds into original music, and then share it back. Providing the loops is the easy end (we'll make it a download on our web server), what I was looking for is an ideal online site whern people can post, maybe tag, the creations they make from the loops.
i was amazed at the range and number of responses: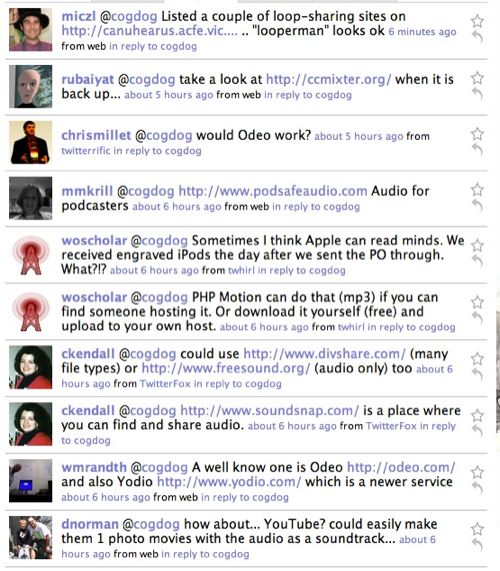 And feel compelled to recognize, thank and respond to all!
Again, I am bowled over that the response, again from folks I hardly or dont know (yet). As if it needs reinforcement, in twitter, and for that matter, most place in the read/write/mix/publish/rant web, you gotta give to get. Well you don't have to, but it sure helps a lot.
I am mulling more over the best way to pull together a collection of audio files created from the loops. No one mentioned my first impulse– my response to almost anything is "tag 'em in del.icio.us". This would give people the option to get an mp3 on the web through any service where there is a direct link to an mp3, then with a common shared tag, in del.icio.us a tagged MP3 link comes with a free player, so a shared tag would aggregate them. Secondary tags can create a subset, and all the tags come with RSS for free, so the recently tagged audio could be pulled into other sites. And it would not require creating an account at some other site.
The decision is still hanging out there, and I am very sure there are a long list of possible site/tools that might work. I dont know them, but somewhere out there is expertise/experience in the twitter space– when the stars are lined up, you can often just Tweet and Receive (if twitter is not down!)