I try not to begrudge what others do, but as much as I use (and talk about) mining flickr for creative commons licensed images, I dont know what to make of those who uses a photo sharing site to post photos All Rights Reserved?
Okay, I do begrudge.
But I dont spent much time there- what is more interesting, uplifting, is the magic that happens when you give something away, when you don't attach statements of what you cannot do with media you've created, but attach statements of what you can do. I have pretty much given away every photo, crappy software, document I have ever created.
I gave away a picture of my old car in death valley and got a free music CD. I gave away copies of my old HTML Tutorial, a teacher translated it into Icelandic, and a few years later, I got invited to visit Iceland to do web workshops.
Its not richness of things showered on me that I value, its richness of people I meet, connections made. The more you give, the more you get. Just don't stand there with your palms out waiting for it.
Recently I had lunch with Jim, a long time friend. He and his wife retired 2 years ago, and they each took up art. I recall Jim asking for photos they could practice from, so I sent my flickr tags for flowers and dogs, etc. I have a nice pencil drawing of good old Mickey (my yellow labrador icon), but Jim showed me some of the lovely pastels his wife has done– see the photo and the painting version below.
painting:

photo: (detail of colorful bearded iris)

painting: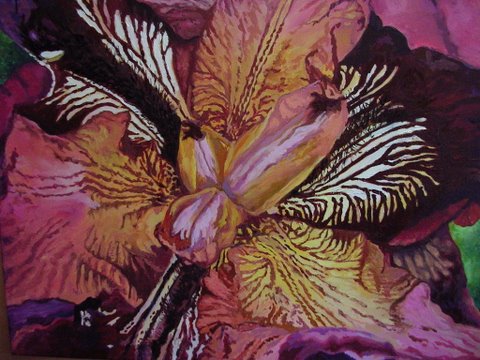 photo: (looking up from ground at blooming flowers of ceres cacti, note how Susan has reversed the image, a nice composition!)

painting: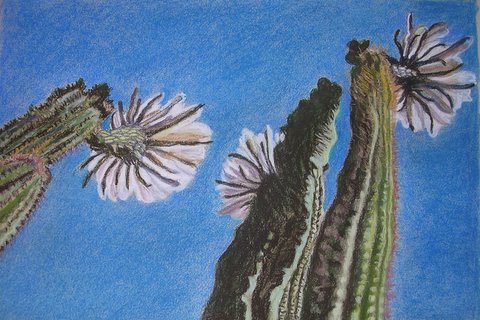 There's much more to say about working the art of those who come before, and it is certainly not anything so new or novel. Thanks Jim and Susan! I am honored you are using my photos.
Give stuff away and see what happens! And make it simple, go for a simple Attribution license (ducking from the barbs throwhn by BY-NC advocates!)