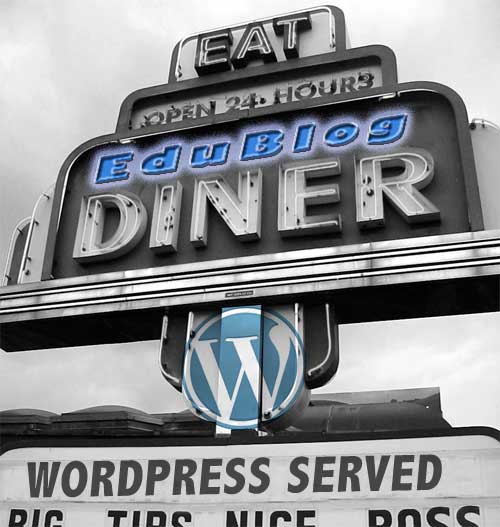 mod of flickr creative commons image: Diner Sign by D.F. Shapinsky (pingnews)
That's the camp title I came up for my short invited presentation this Saturday at WordCamp San Francisco. My blurb is:
Among the 100+ million/gazillion blogs estimated that are "out there" quite a few belong to educators using several flavors of WordPress. Edublogs.org (WordPress MultiUser) alone provides free blogs to nearly 200,000 educators. The spread goes far beyond teachers blogging their experience.

We'll start with an appetizer of ways we at the NMC have tinkered with the WordPress recipe to power full featured websites. Moving on to the main buffet, we'll sample ways WordPress is used to provide university hosted blogging services for students, as a place for elementary age students to stories, as electronic portfolios, as electronic publishing platforms, as nifty plugins that connect learning resources, as alternatives for course management systems, as resources for home schooled students, as platforms for narrative, as sites for projects. and more.

If there is room for dessert, we'll see what people have tagged at http://delicious.com/tag/wpeducation
I'll pretty much zip through some loaded sites in browser tabs. As a resource, I popped what I have accumulated so far into an open wikispace (heavily weighted towards University of Mary Washington only because Jim Grom sent so many links). Its impossible to cover everything done in education with WordPress, but if you want to toss another plate on the table, either edit the wiki or tag something in delicious as wpeducation.
Load me up with great examples, so I can wow the WordPress-erati.