NOTE: Was I ever wrong and offbase on this one. Thanks to rapid responses to the Foxmarks folks on GetSatisfaction site, it looks like the culprit now is the delicious.com extension, which is now disabled and the beachballs / long syncs are gone. Sigh.
My humble apologies to the makers of Foxmarks
Doesn't Uninstall mean go away? Remove yourself? Not if you are the Foxmarks extension for Firefox. Like trying to kill a vampire, even having the right tools does not get read of the nuisance.

cc licensed flickr photo by JoshBerland19
I upgraded to Firefox 3 a few weeks ago and was sad to learn the Google Browser Sync extension was left out to dry and not upgrade to work in FF3. This as a flawless tool that kept my bookmarks matched between my Mac and PC, and not only that, kept my cookies and browser history in line too, so it was like the same Firefox on both machines.
So I opted to give Foxmarks a try, which only synced bookmarks. It seemed to work fine for a while, but over the last few weeks, using Firefox 3 on my MacBookPro has become a protracted act of waiting to use the browser while it spins the cursed Mac beachball.
Some research suggested extensions were a possible cause, so I started disabling all the ones I had added recently (3). Disabling Foxmarks seemed to clear things up… for abut a day.
I then completely uninstalled Foxmarks.
Which means it should be gone.
but it is not.
It refuses to go.
All day, when I see the beachball, I note in the bottom of my browser that there is still a Foxmarks progress bar claiming "bookmark sync in progress"! How is that possible? Is it a ghost?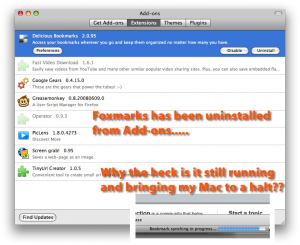 Do I need more garlic? An excorcist? Some have suggested I create a new Firefox profile and import my settings. I read elsewhere that that move did not kick Foxmarks out of the house.
More weirdness- for an uninstalled extension– why are there traces of Foxmarks in my Firefox about:config settings?
But I think I just found the silver stake to drive through the heart of Foxmarks… I logged into their site and deleted my account.
And for the last 10 minutes? No sign of beachballs of phantom syncing.
My experience hopefully is not yours, but I am giving a Big Pile of CogDogPoop for the havoc of Foxmarks. I'll show you who is top dog in my browser.
Update: Arrgh, I am still seeing the beachball producing "browser sync in progress". Is it Foxmarks or a relict of the incompatible Google Browser Sync? I am going in sometime soon the bowels of the Firefox app directories and libraries to see if I can find any tracks.