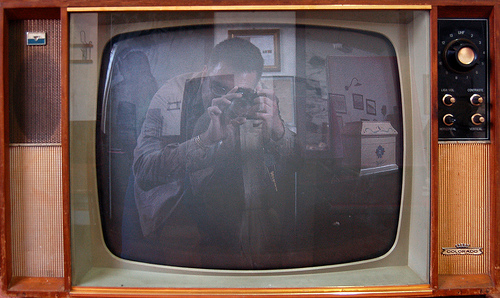 flickr photo Autoretrato com Colorado by Paulo Brabo
Maybe two months from now will mark the 15th year I have been on the web. This will be October 29, exactly at 10:30am, 15 years to the minute when I inserted a floppy disk labeled "Mosaic" (in perhaps a Mac Quadra 900) that my Maricopa colleague Jim Walters had handed me, and had said, just with a smile, "Try this".
Profound moment indeed.
In all this time, I have never lost a shred of excitement over those crazy serendipity happenings, connections, opportunities, that present themselves only because the web was there. Things that would not have happened otherwise, in that creepy parallel universe where there is no internet, no world wide web.
So I am going to toss out a few and see if others pick up and share there own. My stipulation is that each story much have a link to an artifact of the story. Cause if there ain't a link, its not a web.
I have tons of stories, but will keep it to three.

How do You Say HTML in Icelandic?
One of my early successful web projects was Writing HTML — dating back to 1994– a tutorial on old school web content creation, where you could learn tags, linking, etc while building a fake web page about Volcanoes. Sometime in the mid 1990s I got an email from a teacher in Iceland asking if was okay to translate the lessons into his language. The entire package was always available for free download and re-use, so I said "sure" and warned Gudjon that there were like 120 files inside of it that would need translation.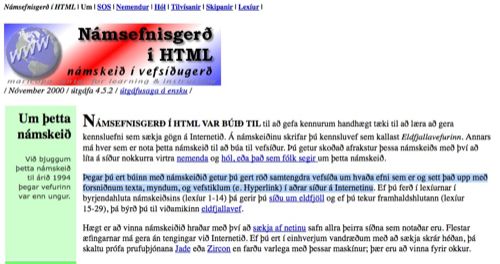 I forgot about it, but months later, I got an email that said here it is – http://thor.vma.is/tut/ and wow, I could recognize by content in shape, but "NÁMSEFNISGERÐ Í HTML" read like:
Þegar þú ert búinn með námskeiðið getur þú gert röð samtengdra vefsíða um hvaða efni sem er og sett það upp með forsniðnum texta, myndum, og vefstiklum (e. Hyperlink) í aðrar síður á Internetinu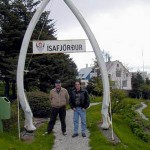 That is only part of the story. In 1999, Gudjon recommended me to a colleague in Reykjavik, and in June I was flying there to give workshops to a group of social studies teachers. After that part, I was on a small plane flying to Isafudor to meet Gudjon for the first time.
From me posting web pages Arizona to meeting a colleague at his home near the arctic circle in Iceland? Only by the web did this happen.
My Death Valley Photo As German Rock Band Album Art
I refuse to be convinced that you gain by locking up and protecting your "intellectual property", and my mode of operation from my first steps onto the web were very simple- give my stuff away. Cause you get things back, and better than tangible are incredible experiences that can make you look like a wide eyed babe.
Back in 1988, when I was a grad student in the Geology program at Arizona State University, I had some wonderful "commutes" to the area I was studying for my Masters these near Bishop, California. One route I took was across Death Valley, and even then, long before a digitqal camera was even a glimmer of an idea for me, I was taking photos of weird signs… in this case, my car, a 1973 Ford Maverick, parked in front of the sign in Death Valley that said "Sea Level":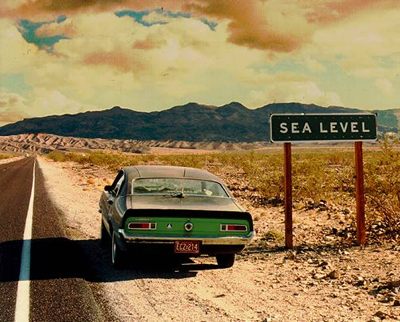 Years later, when I had access to tools in my job at Maricopa, I scanned the photo and dropped it somewhere in the pile of my 1990s vintage "home page". Interestingly enough, it was the file name of my photo, sea-level.jpg that enabled a German rock band to find my image — the name of their band was The Sea Level. And they were interested in using my photo as cover art for their next CD.
I was maybe a bit skeptical, but had nothing to lose by shipping them off a higher res version of my photo. And darned, if months later, did I get en envelope of a music CD with a familiar photo on the cover: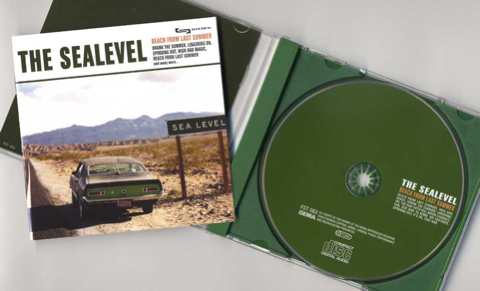 Only on the web would a German band find a photo for their music from an obscure directory of a web geek in Arizona.
Unidentified Arizona Flowers Spotted in Tasmania
I still have to question whether this last story could have really happened, but I was there, and it did.
I have a part of a presentation called Being There in that Unevenly Distributed Future where I try to make a pitch that on our human scale we cannot really grasp the immense size and breadth of the net. Its on a scale beyond our senses, like the physical scale of one puny human at the Grand Canyon. So I shared a few examples that are, I hope, more appreciable than talking about "millions of blog posts per day".
I am doing this presentation at the first stop of my October 2007 Australia tour for a group of educators gathered in Hobart, Tasmania. I tell them of this little trick I learned on flickr– as I enjoy taking macro shots of flowers, I really am terrible at identifying them. So by accident, I learned if I use the words "unknown flower" or "unidentified flower" in a description, that often people seek these out and will tell you, in the comments what the species is.
So I have a preset flickr search string that pulls up maybe 13 phorts from my stream that have that as a description/ So in Tasmania, I scroll up and down thatr page and decide to use an orange one as an example.
I tell the audience how I posted the image and a someone named "Kirsty S" commented, "I suspect it is a ranunculus."
Here I am in Tasmania telling this story (I could have picked any of 12 other photos) and a hand goes up halfway back of the room and a woman says, "That was me! I am Kirsty S".
I am sure my heart stopped a beat.
Or twelve.
The odds of this seem astounding to me. But I was there, and so was Kirsty S
Only on the web could have this connection happened.
It is these stories that keep me going, and hoping for more.
So what are your "only on the web" wild stories?