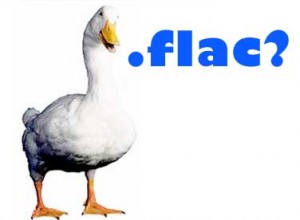 I always knew some day I'd have a reason to blog about something I could relate to the insurance duck (don't seek an answer why).
In my travels last week, a friend I stayed with shared some (well a lot) of concert audio files, all in .flac format– which I had maybe heard of before, but now know it is a lossless audio file format. My ears are not near discriminating enough to know, but that is way besides the point.
Of course I expected to find a free audio converter as something I could use to bring in the music to iTunes and onto the phone/pod (you can open them in Audacity and convert but that would be a one by one manual op. I first went to a reliable source of Mac apps, VersionTracker and searched for "flac"– scanned a few (I peek at the reviews as well), and gave ALL2MP3 a try.
It worked for a batch of movies, basic enough, and converted a set to MP3. But when I tried to run the app again, it would not respond at all. I decided to go back to the wider well and searched Google on mac os x flac converter and came to a blog post about someone having good luck with XLD. From here I was at the developer site, which roaming past the command line junkie stuff, there was a link for the GUI version… The link works now, but when I did it I got a Japanese 404 page (I am guessing the developer was uploading a new file at my bad luck timing), so I return to Google, searched on XLD, and found a mirror site.
This is a long way (I am not even sure why I am outlining except to hint that searching takes a multi-pronged approach) to get at that this is a very cool converter tool, and is very quick at batch converting- I used the settings to go to m4a format for itunes.
So if you need to do a flac, not Aflac, dont squawk.
Actually the larger lesson is that more and more (and I guess its the new Chrome way) that finding information is not looking in web site directory catalogs (the old Yahoo way), but wide open search. Knowing search is a key, and I continue to refine the approach every time I engage in the act.
Quack.
I said it.