More iPhone love. If you cannot stand it, go read a blog post about Android. I just gave Recorder for iPhone a quick test and it so rocks! For 99 cents, the price of a sappy Abba song in iTunes (or a Led Zeppelin anthem, just to be fair), I have an audio recorder on my iPhone: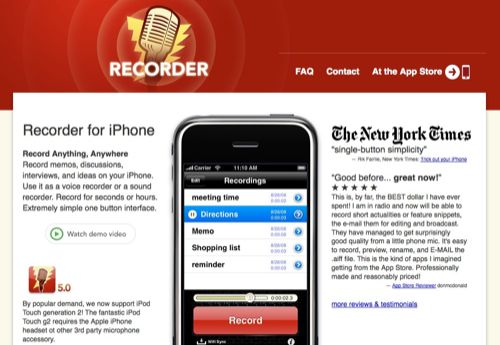 It could not be easier to use. You click the big giant button labeled "record"- you even get the levels as a visual display as you record:
When you are done (yes, do you remember step 1, click the red button??), you can then email the audio file if you wish, but better! You can sync it via wireless to your computer- when you activate the sync feature, it gives a local network address you can pull up in a web browser, and see a directory of your audio files on the phone: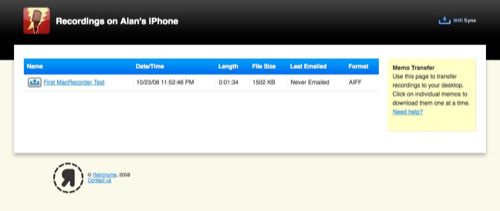 So I just right/control click on the file I want, do a Save Link As…, and wham! The 1.4 Mb AIFF file got here quicker than I could even plug a cable in, it was lightning fast!
I just then dropped it on an AIG to MP3 converter, and voila! iPhone iCast:
My First iPhone Recording [1.4 Mb MP3]
This is so easy, elegant, and powerful. Combined with the image recognition of SnapTell, audio sampling/identification of Shazam, this sexy device now has one more feature for media-work, built in interview recorder. Once the video recorder becomes a feature not requiring jail breaking, it will be almost complete.
I am so much in love ;-)