Note: This is mostly meant in jest to point out how religious we tend to get with our tools and even more so to play with the image below. Several people will react viscerally to my assertions. Please take this with a giant grain of NaCl. A does of Snark. All of this is based on my own experience. No web sites were injured in production of this blog post.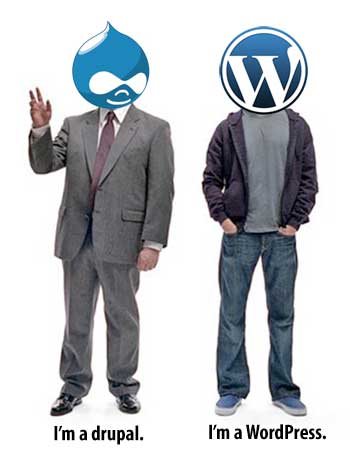 I know and respect drupal enthusiasts. I know and respect WordPress enthusiasts. I myself associate with the latter, but I do use drupal for the bulk of the web presence of my day job. Have I set this one up with too many disclaimers?
So take with some gross judgment that there are drupal people and WordPress people (and we love the extremists). And largely, those that are really successful in bending drupal to their whim are programmers, developers, people who can get deep down into the modules and hooks and can breath the "drupal way". On the other hand, people who use WordPress can go a long ways without having to get down into the soul of the code. They use a WYSIWIG interface, and mostly, It Just Works.
This is so totally like the Mac / PC fanatics game. I lost track of the source, but remember one writer who claimed that ultimately, the reason why PC's rose to dominate the market in personal computers in the 1990s was because diving into DOS and BAT files poking in the BIOS was more "masculine" than using a graphical interface. I cannot really say I believe that, but there is something in that that makes me nod, "maybe".
Does that fly as well in these two modern web publishing systems? I dunno.
I had a recent frustrating experience in trying to get drupal to do what I needed for the NMC web site. A problem had vexed me for a while. We were getting messages from some users that certain web pages viewed in Internet Explorer would just bomb with an un-useful "an error occurred page". I managed to narrow it down to ones that were using some embed code to insert Flash video content from our media server into the pages. I got around it temporarily by putting some of the video on blip.tv, and using its embed code, but it told me that the method used on our site was bad.
Our developers had written me 2 drupal functions to look for a custom tag in our content like:
[

flv

:

http

:

//media.nmc.org/somelink/to/video.flv]
and I could see in the code it was using some variant of the swfobject method; yet noted we were using an older version of that code library (1.5); the newest version was more than just a replacement with the newer version.
I did find a reference on an MS site about certain issues with the way javascript code was used to re-write content; and surprise! hacks were necessary to wrap things in divs a certain way for IE not to go off and cry… http://support.microsoft.com/default.aspx/kb/927917. But no matter how many different ways I matched by code to theirs, it refused to play nicely.
So I thought maybe what I need is a newer drupal tool to embed FLVs. I went shopping in the drupal module place. I scanned a long list and many of the module were overkill; things designed to enable uploading of video and conversion to FLV formats; FLV Mediaplayer looked promising. I downloaded the 5.x version, where the entire documentation page reads:
Fixes flashvars merge issue
On activating this module, it indicated I needed to download, and activate another module. I did that. The new embed method did not render anything except PHP errors. I traced through the code and it was littered with debugging dump statements. Back to the drupal forums, where I found someone asking a similar question, where the developer response is:
Fix is in CVS, bad validation due to regression. Thanks for the catch.
Now this is where I break and jump to how you install plugins for wordpress. You download the code, upload it to your own server, go to the plugins page, and click a link to activate it. You dont have to go elsewhere to scrim other pieces or comb through CVS repositories to find fixes.
I bailed on the FLV Media Player and started wondering if I;d be putting all of our video in the cloud. I really preferred to have our videos on our media server; that is what it is there for, and we get very detailed data on usage.
But this is where the community saves me- some tweets of frustration got some direct messages, even and email with a phone number from Bill Fitzgerald. I met Bill last year at Northern Voice, and really respect him for his work, drupal expertise, and ability to take our WordPress ribbing and sling it right back without getting nasty.
Bill got me pointed in the winning direction with a recommendation for SWFTools (which for some reason is a "project" not listed on the modules page for media) that in the end solved my problems.
And now I had found the definitive signal for good drupal code- it had multipage documentation, written in something close to English. I've scanned quite a few modules in the last 2 years, and often you feel lucky to get a read me.
Yes, drupal peeps will quickly hop in and tell me errors of my ways. But I am an experience developer, and have installed many kinds of PHP/MySQL systems, and I still fail to fully grasp the way drupal works. I find the details to be usually be deep down in the code, and to go beyond just the basics calls for someone at the developer level to fix their PC drupal.
Whereas with a Mac WordPress, though not perfect, lends itself to people who want to be able to customize their web sites without peering into the code.
Now let me re-iterate; I very much love what drupal does for our NMC site; and there are somethings that would have taken a lot of code and duct tape to do in WordPress. I love views, and make heavy use of them. I like creating my own CCK content types– but I am again and again facing a wall in drupal because it seems to defy my way of thinking. My angst comes down more to my own short comings in learning this system… but I really do not want to have to ramp up to the level of being a drupal developer to be a drupal user.
I'm a WordPress….
---
Featured Image: The classic I'm a Mac, I'm a PC ad (source unknown, most likely copyrighted, sue me( with drupal and WordPress logos swapped for famous heads. Background is my image! Across the Crest flickr photo by cogdogblog shared under a Creative Commons (BY) license