I think I should read a book at Sunday breakfast rather than sneak peeks at twitter (actually I read for an hour on the porch this morning before even opening the laptop). I saw a tweet from Tony Hirst: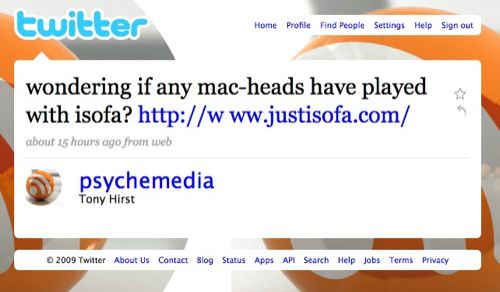 This Mac Head could not resist, and then Tony asked for some sort of review by Monday? Crikie. Me and my big twitter mouth.
So I did download iSofa, which turns an iPod Touch / iPhone into some sort of remote control, so you can do things on your Mac, while sitting on your Real Sofa. It is not a iTunes Store app- instead, it tweaks a setting in the underside of your Mac (which unknown to likely 90% of 'mac heads" is quietly always running a local version of Apache).
And what you get is a special URL you launch on your iDevice: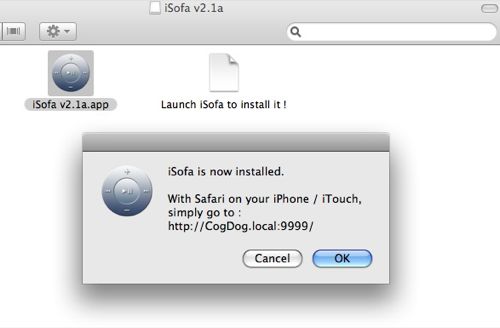 which in Safari on the iDevice you can save as an icon on the desktop. The remote allows you to do things to your Mac, from your iThing, by wireless or 3G connection. I have briefly played with the remote pointer thing for PowerPoint, which was Not Terrible (except for the PowerPoint part).
I gave iSofa a quick toss of the pillows; first using the page it loaded in Safari on my desktop to download and change my background (getting the right cover on your sofa is key critical!).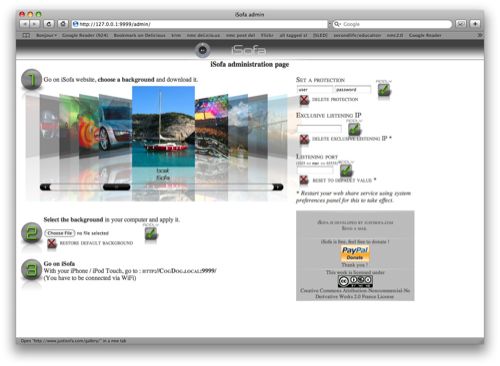 This admin page is loaded in Safari, for communicating to the iDoohickey, so I went to the iSofa site, got an image, and managed to update my remote: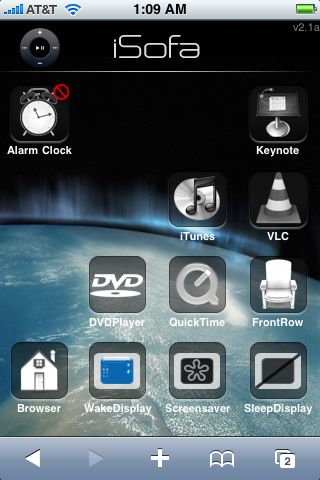 A quick run through what I got so far…
Alarm Clock– you can set an alarm to set up a song in iTunes. I am scratching my head on this one, as I use that feature on the phone. I guess you could rig it to wake your kids up??
Keynote – Assume it lets you pace through a Keynote stack (I dont' use it or have a current version, so did not test), but would think this is much better for a remote than in infrared or blue tooth as the range should be greater.
iTunes — This seemed the most useful remote control thing, to flip through tracks, jump to playlists, etc. Again, I was able to change songs from the opposite end of my tiny house. Of course Apple has a free iTunes iApp.
VLC, QuickTime, DVD — all seem to allow you to play media, jump tracks, change volume. It does allow you to flip to/from full screen. However, I found for QuckTime (the only one of these 3 I tested), that on the computer you have to load the movie first, and iSofa only plays the active QuickTime window; no way to jump to an other. I can see using it if in a presentation I want to slickly play a full screen video
FrontRow I have some conflict with FrontRow, and could not launch it (I think because I have another remote control app, Mira, installed. I could not get iSofa to do anything, FrontRow never popped up.
Browser – Now this was interesting- not a web browser, but a file one. It allows you to navigate your user directory on the computer, and open files that can be opened in Safari on the iThing- images, Word files, PDFs, etc
Display Controls – activate/deactivate your screen saver from the iSofa. Might be handy when your Bay Watch screen saver kicks in in the middle of your sales pitch.
There are lots of remote control apps out there, and I've hardly tried too many of them. iSofa was pretty easy to set up, and I can see a few reasons to maybe use it.
But now, I am tired, so it is time to sleep on MySofa.
And stop stealing my pillows, willya Tony?
Related articles by Zemanta