What I used for today's presentation was one of those lucky cool finds that can lift my from a web 2.0 sized rut. Today I was invited to give an opening keynote back at some old stomping grounds; Scottsdale Community College was hosting their first "TechTools" day, and I got tagged to kick it off.
I was asked to touch on new technology and understand students use of technology, which led me down a few paths- one for some Digital Native bashing, but also a chance to delve into two trends I am growing interested in – one being YouTube / video as a communication and its evolving culture. I borrowed heavily from the brilliant videos by Michael Wesch (I am convinced I could make an entire presentation just by playing his videos). And the other the rise of DIY culture and media creativity as a past-time. And for the day job, I wanted to toss in a review of the 2009 Horizon Report.
I'd been collecting video and web links and a folder of images. I discovered a great set of presentation type slides on technology and trends in the Digital Bites collection by Will Lion.
So I had a pile of media.
In the back of my mind, I had wondered about the capability of using CoolIris (actually pack when it was PicLens) having just seen its lush 3D wall of images you get when viewing a flickr or facebook page. It is very elegant. And I had noticed they'd added support to explore YouTube in the same interface. I saw that you could use arrow keys to move through images sequentially and said, "One day I will do a presentation in this format".
Today I was able to use something that looked like:
But I thought I'd be limited to assembling my slides as a flickr set. And for this presentation, I wanted to use a mixture of images and video. The next thing I thought might work is using the "favorites" feature to build up a set of images, but oh my, getting the order right would be a b**** and if I wanted to change ot insert, I;d be screwed. Plus, I could not share it.
Then, a few days ago, I found the grail.
The holy presentation grail.
Well, at least it looked shiny.
In the Developers area of the CoolIris site was a section on Enabling Your Site with something called Media RSS, apparently a standard of sorts developed at Yahoo.
And there it was, I could have CoolIris lanuch from a web page I created, and by connecting my web page to an external RSS file that specified the data about the slides, I could have my own stuff in the order I wanted.
It was a matter of making a folder of the images (I made mine 1000px wide/high JPEG or PNG images), another folder of thumbnails of the same, and another folder of video clips (must be flash videos- flv. For the video, I grabbed 1-2 minute snippets in an undisclosed manner form certain video sites (cough cough TOS), that I used as my displayed video.
So I made a Media RSS file I named show.rss following the sample on the CoolIris site -this has an example of an image slide and a video slide from my own presentation.
http://www.flickr.com/photos/timberwolf/65066095/

http://www.youtube.com/watch?v=pMcfrLYDm2U
What I really link is all e media URLs and links can be relative links (handy for moving sites around) or full URLs. Notes:
title slide title: displayed in bold and hover over image
media:description more like a caption added to bottom of image
link URL or just local image link displayed when the Jump to Page button is clicked
media:thumbnail location of thumbnail image
media:content The link to the media shown for each- an image or FLV
And you can easily re-order your presentation by moving around the <item>…</item> blocks.
The Jump to Web functionality is what I really dug as I do so many presentations about the web, and going from something like powerpoint to the web and back is just awkward. My CoolIris presentation is accessed ON the web and I can access other web content seemlessly by using the right-more icon below the image (this is my own photo BTW):
So I can click that little button, and jump to the <link>…</link> I specified, roam all around the web, and CoolIris leaves a small button in the lower right of my screen that allows be to jump back into the presentation.
The videos worked really well too, and I could stop and start the video with the standard controls below the video.
Maybe it is just me, but I love this format. It bends RSS sweetly into something stunning.
Uh oh, I forgot my own law to start with the demo!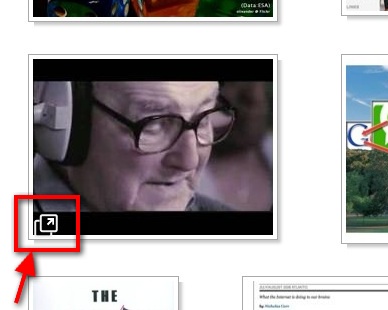 The presentation is live and viewable below. To get the 3D wall effect, you need to install CoolIris (free plugin); without it you can view the presentation in a more linear format via the embedded code that uses a PicLens lite player. But get the full monty effect with the plugin; any time you are at an enabled page, ike miine, you can launch the CoolIris wall by clicking the superimposed logo on the bottom right of any image in that page (shown left by red square and arrow).
So here it is, "The More Things Change… the more things change"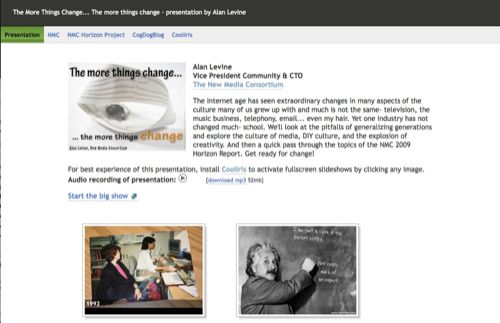 You can listen to the audio I recorded:
The More Thins Change…. (52 Mb).
On the site above, all the icons are hyperlinked to whatever they were linked to in my media rss file.
Thanks again to SCC and all of the enthusiastic people there today who seemed to enjoy the show- especially great to run into my long time Maricopa collaborator Bernie Combs, who I worked with in the 1990s on Research Methods (it may still work) and Negative Reinforcement University (which does likely work well anymore).
And thanks to CoolIris for cool technology!
UPDATE: Aug 4, 2015 As a platform CoolIris is no longer around, but I found on github the source files for the cooliris.swf that you can install on your own server. So these old presentations have an extended shelf life.
What it once looked like: