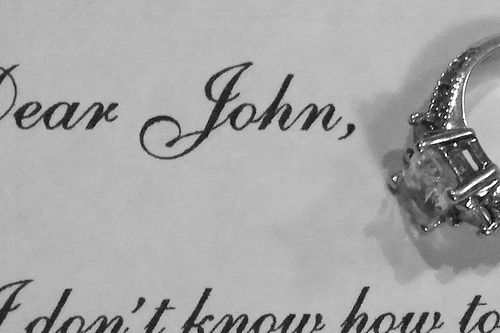 cc licensed flickr photo from irishdragongreen
I'd heard from a colleague today that they got a Dear John email from Yahoo informing them that the online video editor app Jumpcut was going away, as confirmed by the "in the deadpool" story from TechCrunch. It's little surprise, given the December 2008 move where Jumpcut removed the ability to upload video (kind of makes it hard to edit, eh- oh, you have to load it to flickr then use it in Jumpcut), and as TechCrunch snarked, promises are all pre-alpha in web 2.0 land:
Yahoo's closure of their Jumpcut video service feels like the slow peeling off of a bandaid. In December they announced that no new videos could be uploaded, but that they "will be keeping the Jumpcut site up and running for the foreseeable future."

Apparently the foreseeable future ends in June, when the site will be shut down.
I have yet to get mine. I am feeling rejected by not getting my rejection email. They are clearly communicating the message over at the Jumpcut web site:
Yeah, read that: The easiest way to upload, edit and share your video and photos. Free. except you cant upload video. Except that the site will go black in June.
Keep toting the company line. Heck, there is still a big old register button.
Heck, they are still hiring. Anyone want to toss them a resume?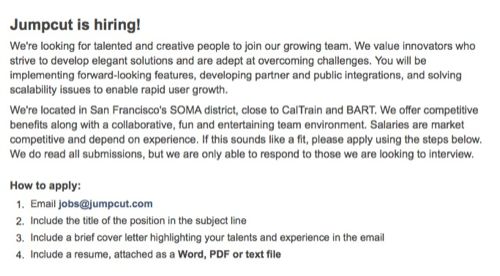 We're looking for talented and creative people to join our growing team.
and unjoining our dying team in 2 months?
We value innovators who strive to develop elegant solutions and are adept at overcoming challenges.
That would be quite the challenge to overcome, eh?
Is this the transparency of business that we hear so much about? How is it that companies still miss how easy it is to dig out the scent of the real story? If Jumpcut is folding, why are they pretending the sky has not fallen?
And you don't need a MBA or a crystal ball to see the crumbling foundation at the good ship Yahoo, who missed even their best hope at getting bought out last year. Is anyone else twitching over the fate of flickr? Better order your archive DVDs…
Everything Web 2.0 is a house of cards… that could stay nicely balanced for a while but could also….
I'm not losing any sleep over Jumpcut. When they bust on the scene, they had done something revolutionary, and took the golden path of Getting Bought by One of the Big Web Companies…. in hindsight, the Wrong One.
So Jumpcut now passes to the Hall of Shame in my 50 Web 2.0 Ways to Tell a Story, and at this rate I may start slipping below 50.
Jumpcut, you could have been a contender, you coulda been somebody, instead of what you are…