I've been excited about the LiveScribe pen recorder since seeing it first at a meeting last January, and then magnified by the presentation by Joe Russo at the NMC 2009 Symposium on New Media & Learning.
I'd not done much with it in a while, especially with the problems I had with the 1.0 Mac Desktop software, but noted a new version had been out a few weeks– and it (mostly) works well now. I have just uploaded by first "pencast" and the newest feature is the ability to embed this into another site.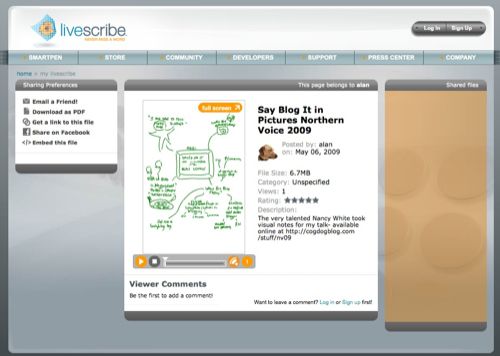 Right after I got the pen, I packed it for my trip to Vancouver for Northern Voice 2009. During my presentation on Say/Blog it in Pictures I did something smart- I gave it to someone who can actually draw well- Nancy White – who took some amazing notes in my LiveScribe notebook. But up to now I only had a PDF of the notes and a separate audio file.
With the new release of the software, I can now have it available on the LiveScribe site- plus it is embed-able in this blog, so now you get the audio playback synced to the sequence of visual notes Nancy made…
With this capability, my fires are lit up again to think a bit more how this nifty device might be used…