cc licensed flickr photo shared by tourist_on_earth
I've written previously (not that I remembered, I had to use my own blog search) on the challenge of tag juggling when one's tagging habits have sprawled so much one wonders how many can they keep in the air.
And its been something we've been discussing for the tagging we ask people to do for the Horizon Project… can they remember the tag? Will they remember the tag? Will they tag?
My delicious tags are messy, and rather than clean them up, I just keep sweeping them under the rug, and nudging the door so maybe the guests wont notice my lack of tidy tag keeping.
Bu I just lapsed into the more severe case I now coin- Tagnesia– the loss of memory of a tag you have used in the past.
I had come across this great flickr set of Academic Evolution images that Gideon Burton makes for his blog of the same name. They are quite useful for future presentations/blog posts, and I knew I had tagged a few before in delicious… and…. I.. could… not… remember…. my….. own tag.
Blackness.
I got dizzy.
Short of breath.
I tried browsing the list but it was so long.
I tried guessing but failed.
So I thought I could backdoor and find one site I had already tagged,
it was called…. ummmm…. what was it?
Yes! It was buy a woman who's flickr name began with an ?? "L"? or was it "P"?
Not good.
But I did remember that she had published her collection as a book on Lulu and I had bought the book! It was in my living room on the shelf… no on the coffee table… no it WAS on the shelf.
That's it! It is called "Interesting Snippets"
Now I have to Google to find it.
And there it is!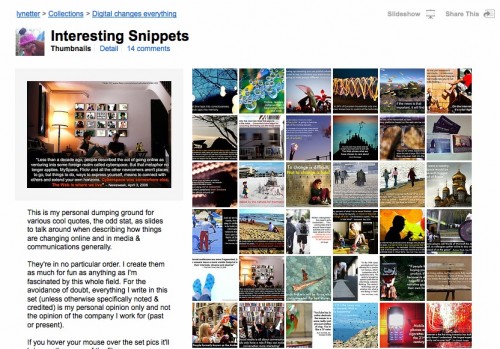 So now, I know I have a secret trick. Oh if I can only remember what it was?
I do remember,
If I tag this site again, the delicious firefox extension will pull up my previous tagged entry! It does, and now I see the tag I was looking for!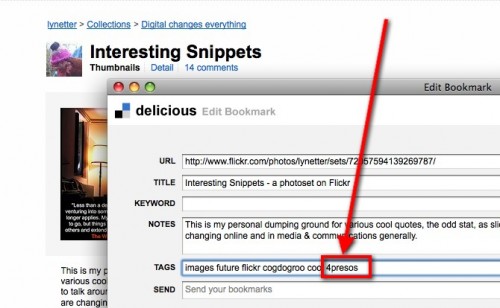 It is my own tag 4presos http://delicious.com/cogdog/4presos I found my forgotten tag.
Maybe there is Joy in Tagville, tonight.
But wait.
No!
Nooooooooooooooooooooo.
The new site I was ready to tag?
I HAD TAGGED IT BACK IN MARCH!
I have Tagnesia.