I love the Chronicle of Higher Education. Whenever I am low on ideas, they generate "stories" that are just begging for parody. I bet Tom feels the same way, there is never a shortage of Chronically Bad Articles to Lampoon.
This blog owes its seedy root to Cole's post questioning the notion of "Google Wave as the Next CMS" emanating The Chron's Article today. Could Google Wave Replace Course-Management Systems?
While lacking formal expertise in journalism (heck it does not stop them), really, this kind of "writing" is akin to the things I am subjected to waiting to pay for my groceries: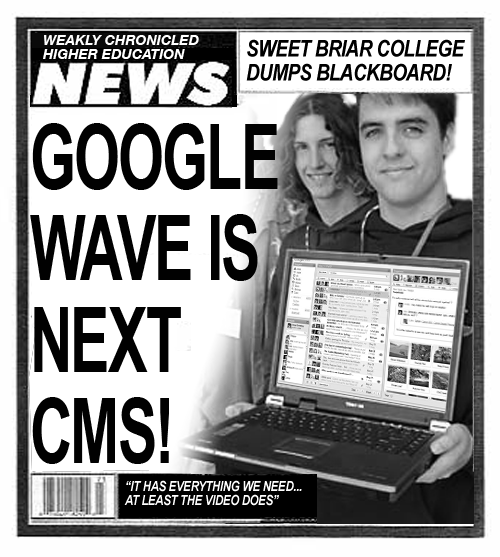 This is obviously a parody, eh? Of course Sweet Briar is not dumping their CMS, heck I don;t even know if they use Blackboard. .
This research this headline story is based on comes from a blog post by prof Steve Bragaw at Sweet Briar College. It is so short, I can quote it in its entirety:
I'm keeping my fingers crossed about getting a chance to try out google wave as a course management software""just from the initial look I think it will have all the features (and then some) for an all-in-one software platform for the classroom and beyond.

I also think it has tremendous potential as an internal organizational management tool.

More here from the NITLE blog
You can draw a direct line to the Chronicle's casting of this story as
some college professors and administrators are more excited about Wave's potential to be a course-management-system killer.
The Chronnies obviously did the detailed follow-up:
Mr. Bragaw admits he hasn't used Google Wave himself…. But Google has posted an hour-long video demonstration of the system that drew quite a buzz when it was unveiled in May. That has sparked speculation of how Wave might be used.
Rock solid journalism, eh? Got a solid inside source– "Mr. Bragaw admits he hasn't used Google Wave himself."
In a related story, A janitor at Smelly Shoe College in East Bumsbury has foreseen a nuclear generator powered by potato peels. James Broom says, "Well, I have not done it yet, but I did see a video about a nuclear plant on the Discovery Channel,a nd I have this basement full of old potatoes."
Can The Chronibull exist for any purpose but hoisting vapor thins stories and driving people to link to them? Is there any real difference from a tabloid except the aroma of academic affiliation?
The mere suggestion of Wave as a "CMS" killer is so full of holes you cannot even see the material. Wave is first of all not even fleshed out, but really- it is not a product– it is a new technology platform for communication, not a piece of software. It's almost like saying "the HTTP protocol- is it the next CMS killer?"
Not even to mention that no one has done anything yet beyond watch the video, play with the messaging (well some intrepid developers are tinkering on the edges).
I'm just one or two days into my brief bits of Wave Play (thanks Google, the love came through!) but the thing is not looking at what it "replaces" or "kills" but more how, if it were to take a toe hold, how it might revolutionize (or undermine) our approaches to communication, information flow, etc. It is an entirely different model, structure for how dynamic content is broken out of containers like a CMS or software boxes. It is the real time web, whatever that is.
While I am excited about its potential, it seems such a mindset change for how people approach their information flow, that I'm a bit skeptical now that it will "kill" or "replace" anything.
The bigger story, IMHO, is how the developers of large enterprise systems are going to change their mindset as information gets smaler, more fleet, and aching to flow from here to there. Heck, now that might be a story worth covering, instead of giving us this cow pies painted with red candy paint stories the ChruniKull puts out.
But keep the good stuff coming, cause I always need stuff to make fun of. Thanks!
Note: My cheesy graphic was modeled loosely from the venerable Weekly World News cover found here and the pictures of the kid with the laptop is from the North Coast Journal.