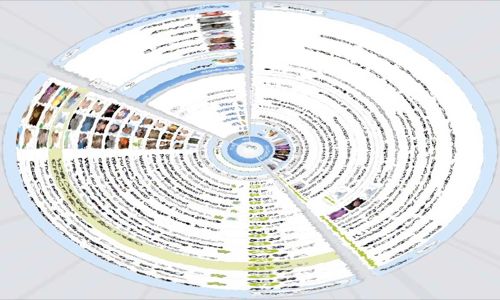 My own Google wave spun through Photoshop
As much as I recall being smitten by the original Google Wave Preview video (I watched the whole demo, its still on my iPhone), I've felt not more than tiny ripples of interest, and until just a few minutes ago, was curious why I was not feeling the giddy euphoria I see elsewhere.
Yes, I am still on my medication (just kidding, the only meds I take are the ones my pancreas stopped making in 1970).
Maybe it was the let down of all the anticipating for my golden ticket invite, after barking a lot on twitter, I ended up with about 6 invites.

cc licensed flickr photo shared by Witheyes
After all that, well, if I was a cliche movie figure, I'd be in bed smoking a cigarette wondering if the invite had been good for her.
Over my years in the tech game, I've learned to pay attention to some more or less gut level instinct when a new technology comes along. It does not always happen on first exposure (like twitter), but there is some moment, when I feel that "aha" sensation that fuels my excitement.
And I have just not felt it yet for Wave. I don't mean that it wont happen, but, there's just not that spark. The spark usually comes small at first, yes, like the smallest of ripples, and it's my senses that detect that there is some there there.
So what is different with Google Wave is that a tremendous amount of hyper and expectation was built up first– it was brilliantly done, I admit, but now we have this Large Thing Which is Supposed to Be Cool and Revolutionary and what I see is a whole lot of frantic scurrying to jump on the Wave Wagon.
People talking about Wave as the next LMS, Or replacing email. People in wave trying to figure out what the best "curricular unit" for a wave is or already talking about the most effective uses of Wave in the classroom. EDUCAUSE has already 7 Thinged it.

cc licensed flickr photo shared by StephenMitchell
Speculation is fine, but I see the cart so far ahead it is not even sure it needs a horse.
So far, like others have noted, I feel underwhelmed and over stimulated looking at that wave screen. If Wave does replace email, I wish the entire GTD movement the best of luck; you'll run your self ragged getting to WaveBoxZero.
The demo was lovely when it was just the 3 or 4 people from Google on stage. It looked managable, even fun. Yet I find the long waves, with 50, 90, 150 people "blipping" almost impossible or undesirable to unpack and muddle through. It's… a mess. I see noise, and little synthesis, or outcome, just lots of swirls and eddies and little current or flow.
I'm not being closed to the possibility, and I am eager to poke around wave, in my own way, and figure out whether the spark is there. What I am dismayed of is all the froth and foam when this is a technology that has not even done anything.
And as a person who lives and dies by the metaphor, I am thinking to the physical properties of ocean waves, that the size of the wave is proportional to the depth to ocean floor… and I am in wait mode to see whether Google's wave is just a ripple in a shallow pool or of there is more to its size than the hype. Taking it even farther from the 'pedia, it seems people have the sense that waves are these things that fly and rush around, but its an illusion:
There is little actual forward motion of individual water particles in a wave, despite the large amount of energy it may carry forward.
I could go down a longer path of standing waves and hydraulic jumps, or even the speculation which way the Australian waves swirl, but that gets nowhere.
Don't paint me anti-Wave, and this might not be the first time I ate the words, but I don't feel any tech mojo tingling when the expectation is set up that I should. And that's what is bugging me- like there is an assumption that Wave is the Next Big Thing, so I have to try and be the early bird say it. To me the way my interest in technology flows towards a new tech, not that the tech flows towards me.
I'm headed down to Phoenix Friday to hang out with some fellow edtech geeks and am ready to maybe have my wave mind opened up some more, bring it on, you wave giddy hippies.