cc licensed flickr photo shared by Darren Larson
I'm feeling many parallels between my current training to run a half marathon and trying to crank out 50,000 words for NaNoWriMo.
Obviously a regimen is needed, the goals are both things I question (or have questioned) whether I can do, falling behind the schedule– puts you behind the schedule, sometimes in a spiral of self-criticism. I'm not saying I Hate Writing, but it is damn hard, especially when there is little time to be un-inpsired. Just when you think you've done a good run, the damn clock on a treadmill or the NaNoWriMo chart, sets you in a head down grunt up hill.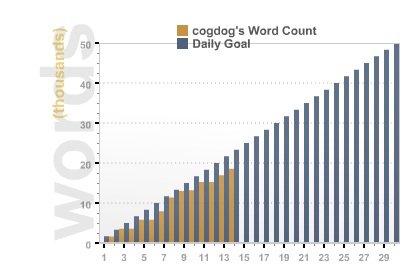 I am not climbing the right hill! Tomorrow is mid-way in the month, and to be on pace, I should be at 25,000 words, and thus am about 7000 behind. It's easy to get obsessed with the count, as much as the details of a running program.
My novel is mostly charted out in structure, but I'm still feeling vague of sharing a lot of detail to I can at least get the next quarter done. I will say it is not about dogs, not about technology, not really too connected to anything I write here (well there is some bicycle elements to the story– and the germ for it was started by thoughts about 10 years ago when I biked to work).
It has somewhat of a formula to it, say some symmetry, in that there are 4 parts, and I know what characters and plots need to happen in each. At the same time, I wonder if it is too gimmicky, so am trying to mix up the edges of the patterns. I both like and am challenged by character development, in trying to shape it for the reader without being so explicit. Will my characters seem real or more like cardboard cartoons? Can they elicit a response from a reader or just a "ho-hum"?
Also, for fun, I play a bit part in every quarter story, not central at all to the story, kind of like a walk on actor part.
Tomorrow morning, I am headed out for a long ass plane flight, all the way to Doha Qatar for the World Innovation Summit for Education, hoping that the 20+ hours in transit can provide the impetus to crank out maybe 10k more words.
I know I can do this, but I am thinking that perhaps writing a novel, now, seems harder than doing a full marathon.
And WTF, I am wasting words here when I can use them eslewhere!