What a strange honor- Tom Woodward twitter shared that this humble blog has been filtered in his school district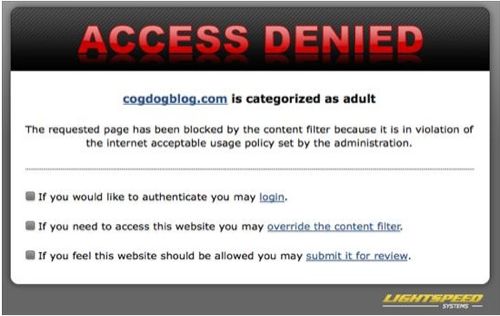 So take that, all those people who told/tell me to "grow up"… I am an adult now! I have this certificate to prove it.
cogdogblog.com is characterized as adult
And the way my brain works with connections, I could not help but flashback to watching TV growing up in Baltimore, where a local catchphrase was from a commercial for plastic sofa cover, where a bunch of kids are jumping up and down on a couch. An announcer voice booms in, "Hey, kids, get off that furniture, what are you trying to do, ruin it?"
And with great irony, that announcer, local celeb Royal Parker, was the father of one of the kids i went to school with. Just for fun, to set the stage, check out the hip opening to the top news station in the day (1973) WBAL
I think that lead story was when gas prices went all the way up above 50 cents a gallon (OMG!)
But I digress. Again.
I have no idea what adult offense I have made, but what the bleep. I shall keep offending.
"Hey, kids, get off that website, what are you trying to do?"