I've had fun following D'Arcy Norman's tweets as he experiments with an old Pentax film camera he got from his Dad. It got me thinking that I've had a string of cameras, but have never bothered to document my camera history.
Not that anyone would care,, this is a blog post for me as an audience. With some fiddling in flickr I was able to find the number of photos I took for cameras that are matched when you upload photos (find the camera, do a search on that model, than change the search results to search your own photos, check the number at the bottom of the search results).
I start with the genesis of my interest in photography, when in my last semester at University of Delaware (1986), needing an art elective, i chose a photography (a darkroom course). I cannot even remember why I chose it, but it was almost the best class I had in college, and had I made the accident a few years early, I might have had a different major.
One of the earliest images I developed that I like was this one of a run down chicken coop:
I did not have a manual 35mm camera at the time, but a room-mate did, and he said he never used it, so he loaned it to me for the semester. I am fairly sure it was a Pentax K1000- fully manual
Because I had shown this interest in photography, as a graduation present, my parents gave me an Olympus X-700, my own SLR
It was a basic kit with a stock 50mm lens, case, cheap flash. I think when I was working the following year in a Ritz Camera Store (Westview Mall in Baltimore) I bought a used zoom lens, but I cannot remember any details on it.
It was at this store that I picked up perhaps my favorite film cameras, a Nikon Nikkormat– I sold someone a new camera to replace this one, and the guy asked if I might know who might be interested in his old camera… I said, "me!" and I think I bought it for $100. It had a Nikkor f/1.4 lens.
The reason why was on my last Geology class as an undergrad, actually it was the field camp where we went to Sound Dakota, a guy on the trip told one story about this metal Nikon he carried- he had gone on raft trip, and took a spill, He thought the camera was ruined, but after taking it apart and letting it dry, it worked fine… I kept that in mind as it seemed like the most sturdy piece of equipment for taking photos.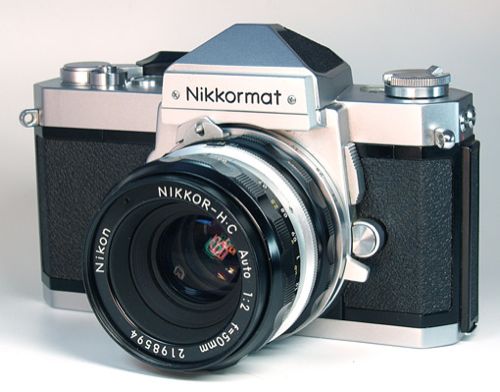 I used that camera exclusively for my 6 years in graduate school, taking it all over the west. The original case got worn, cracked, and eventually it was just a case made of duct tape on the outside.
Sometime in the late 1980s I picked up a small pocket 35mm camera, an Olympus Stylus, but I was so pleased with how sharp the little camera was for people photos.
Although it was mostly plastic, it was durable and its curvy shape was comfortable in the hand. On a Grand Canyon river trip I took in (?) 1988, I took the Nikkormat for black and white photos and the little Olympus for color.
The very first digital camera I got to use was one we got at Maricopa- the very first Apple QuickTake 100. It was huge, and I don't remember being too impressed with the photos. Other people at the time were using that Sony Mavica one that wrote images to a floppy disk inserted into the camera– those just seemed so clunky looking.
My own self purchased digital Camera was an Olympus D-450, with a whopping 1.3 Megapixel resolution (I think the top quality images were 1280×960)– I got sometime around 1999. I went for this brand because of my experience with my small Olympus film camera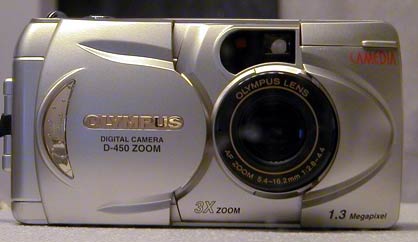 Its 32 Mb SmartMedia card could hold 72 images. I used this extensively on my 2000 sabbatical to New Zealand and Australia but all of the photos were uploaded to my own custom hand spun web site.
When I got back to my job at Maricopa, I picked up first and Olympus 3030 (3.3 MegaPixel) and then a C4040-Z (4 MegaPixel) for the photos I took on the job.
I liked the 4040 so much I bought one for myself and got many years of good use out of it, this was most likely the camera I was using when I started using this little site called "flickr" in March 2004 (the early pictures do not give camera data). Of the flickr data which includes camera data, I had 650 posted photos with this camera. The first photo that flickr gives camera information on is dated August 20 2004, so assuming all older photos in flickr were taken with this camera (63 of them), the total is 713.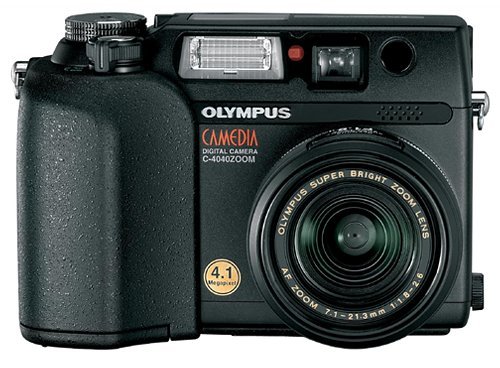 In July 2005, I took the step up when I got mt first digital SLR, the Canon Digital Rebel XT, or as I later called it, the "Big Gun"
The photo quality was several steps above what I had been using for sure, and I had thought going back to an SLR might get me back to full manual mode shooting (cause at one time you did not even have a choice), but I usually found the Aperture priority or even full automatic was giving me great photo quality. I did not get any extra lenses, etc for it til later.
But I did take 2355 photos on flickr using this camera.
After a few years of using the "Big Gun" I had been noticing at conferences the fun my colleagues seemed to be having with the little pocket Canon Digital Elph cameras- and how lovely large that screen on the back was. So I picked up a Canon SD 800 IS:
I was able to find I took 4495 photos with this camera.
And I loved what this little camera could do, especially for something you can slip into a shirt pocket. It became my main camera for years, and it went so many places, did so many things. One of them was using it to shoot GigaPan scenes, the rig that moves a camera on a robot controlled tripod head to take multiple images that are stitched together to create a hugely detailed image. The goal of getting to a GigaPixel image is helped by several factors, including a longer optical zoom (mine was about 3.5x) and image resolution (mine was 7 MP).
So on a September 2008 trip to Japan, I was mesmerized by this new Canon that was not yet available in the states, that had among other nifty features, a 14 MP capacity! I could not resist the fun of buying a Japanese camera in Japan, so I got the little black IXY 3000 IS (eventually released in the US as the SD990 IS)
I cant get an exact count on flickr photos posted by camera model, since it does not officially track this one, but by searching on the dates I used this camera the most, I come up with 3085 flickr photos posted using this camera.
I was still thinking of the poor Digital Rebel which had not been out much since I got wrapped up in the little pocket cameras, so to stir my interest, in 2008, I invested in a fast Canon 50mm f/1.4 lens. I had thought I might find one cheaper in Hong Kong or Japan, but it was cheaper to get it from home ordering on Amazon…. but I ended up still not using the Digital Rebel after all.
Next I ought to include the iPhone (which I got in August 2008) as a camera.
For a count of my iPhone photos, the camera model flickr search on catches just handful of photos- perhaps ones just sent by email; with the use of 3rd party phone apps, the camera must be reported differently, but since I always tag them iPhone, I get a count of 142 photos posted on flickr from the iPhone camera.
The camera landscape was reshaped again after a June 2009 workshop at the NMC Summer Conference — this was a day full of photography at Point Lobos with Bill Frakes (Sports Illustrated) and Don Henderson (Apple) and it totally reinvigorated my interest in going back to the DLSR. It was about 10 minutes before checking out of the hotel, I went online to Amazon to see what Canon had (since I had the one nice Canon Lens) and decided, impulsively, yes to order the EOS Rebel T1i
I just love this camera! I am definitely experimenting more, and finding what I can do with low light and depth of field; really pushed now by the assignments of The Daily Shoot. To date I have only 1231 photos posted to flickr (since July, 2009) but that increases daily. To add to the outfit, I got the Tamron 18-270 zoom lens and am considering another one soon.
The flickr photo counts show which of my cameras I have used the most to post to flickr:
Though looking at my photo count, I am missing about 1000 photos credit (hmmm, is there a camera I forgot about?)
To be continued… for as long as I breathe!