cc licensed flickr photo shared by storem
Some of my favorite software moments are accidentally discovering something new in a tool I've been using for some time. This happened recently my my current iPhone Twitter client, Tweetie 2. I'm not writing about this app, but I'd heard people rave about it, shrugged them off, then eventually later found out they were right. It is smartly designed.
I'd noticed when looking at someone's profile that there is a number below their icon… (and actually I was not ego-ing my own profile, its just an example) (seriously) (I swear).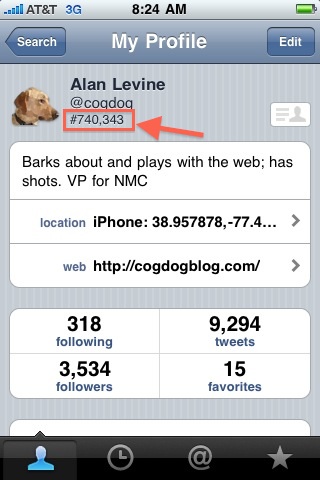 So what is #740,343? Perhaps its obvious, but I wanted to know. Maybe it is some sort of ranking, like I am the 740,343rd ranked tweeter. Yeah, I could only dream to rank that high.
My hunch was/is that it is more or less my database ID in twitter, a user number, and therefore, the lower the number, the earlier you joined. (later– this makes sense when looking at my RSS URL http://twitter.com/statuses/user_timeline/740343.rss)
I looked at a few accounts I know are recent (this year), and sure enough they are in the #16,000,000's. And then I looked at Cole Camplese's profile, cause I more or less followed him in January 2007 when he started blogging about twitter: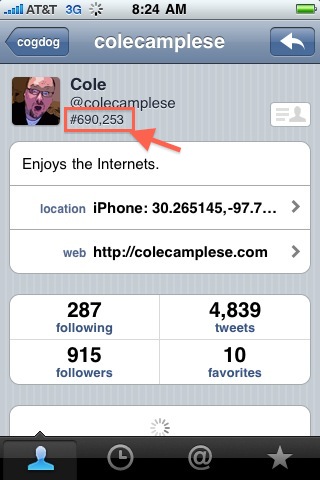 Sure enough, he is #690,253 a little before me (scooped again by the Senator from Pennsylvania!).
I cannot even think of the value of knowing this is, besides scratching the curiosity itch.
But next, I was curious about the little card icon– like here in Scott Leslie's profile: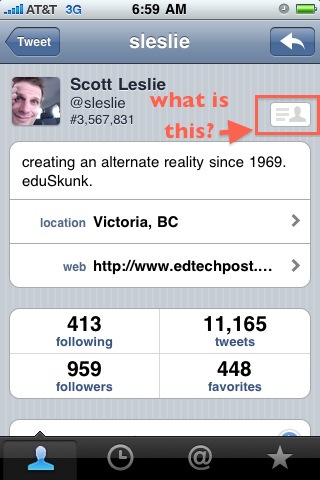 Nice, look at the big number– #3,567,831 – courtesy of the great Jaiku walkout, eh? 😉
But here was a nice feature, clicking the card icon added info from this twitter profile to my address book:
It added his twitter icon, twitter URL, and below the fold, his mini bio in a notes field.
This again, is hardly world changing, or even significant, but it struck me as a nicely, understated feature in Tweetie 2 (and its primary features are plenty enough as is).
So what have you found my clicking mystery buttons? Probably more than me….

cc licensed flickr photo shared by Impact Tarmac