This blog post has no mention of a certain length of time since a certain kind of writing was….. er…. blogged.
One can always try to blog like NOBODY. But that's not the point either.
On my travels, I've been reading bits of Armageddon in Retrospect, the collection of Kurt Vonnegut's post—, um….. stuff written after he died.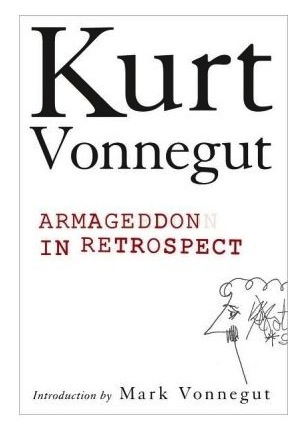 It was not Kurt's words that lept from the page, but those in the intro written by his son Mark (trying to imagine growing up with Kurt Vonnegut as a father).
Reading and writing are themselves subversive acts. What they subvert is the notion that things have to be the way they are, that you are alone, that no one has ever felt the way you have. What occurs to people when they read Kurt is that things are much up for grabs than they thought they were. The world is a slightly different place just because they read a damn book. Imagine that.
Substitute for "book" blog, video, story, etc, anything we create– and share, then it strikes at the heart of things that we find others feel the way we do, and things turn out to be much more up for grabs than we even suspect.
Take this as a subtle foreshadowing of some things I am scheming down the line.
After a copy of a letter he wrote to his parents after his WWII experience, the book jumps to Kurt Vonnegut's speech at Clowes Hall in his home town of Indianapolis, April 27, 2007 (hey that's my birthday) in Indianapolis– his last speech, and woven together a thread of those thoughts that his son describes above.
His parting words, looking at what feels like dark times:
And how should we behave during this Apocalypse? We should be unusually kind to one another, certainly. But we should also stop being so serious. Jokes help a lot. And get a dog, if you don't have one already.
See why he speaks to me? "Don't be serious, get a dog!" He then moves on to a silly joke:
I myself just got a dog, and it's a new crossbreed. It's half French poodle and half Chinese shih tzu.

It's a shit-poo.

And I thank you for your attention, and I'm out of here.
Those were Vonnegut's last public words. A beautiful exit. "I'm out of here."
So let me re-iterate– our words, all of us, ours ways of expression, not just books and written form, can be positively subversive.
More to come….