Here's another episode where Alan Discovers Something That Has Been Out A While and Maybe Everyone Else Calls it Old News but…..
This morning I was doing a Google Image search (more often these days I am using the advanced options to filter out images licensed for re-use) and was surprised/curious about what I saw at the bottom of the results: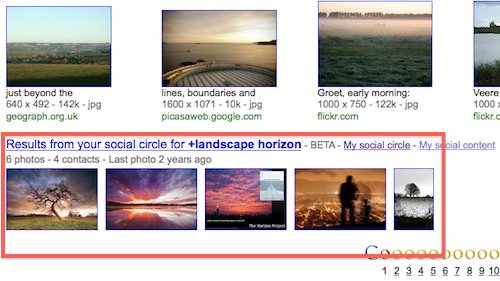 Google Social Search was rolled out in October but I missed that one. From what I saw, it's not only pulling media from your "social circle" but also from things and people they create or link to.
A lot of people write about New York, so if I do a search for [new york] on Google, my best friend's New York blog probably isn't going to show up on the first page of my results. Probably what I'll find are some well-known and official sites. We've taken steps to improve the relevance of our search results with personalization, but today's launch takes that one step further. With Social Search, Google finds relevant public content from your friends and contacts and highlights it for you at the bottom of your search results. When I do a simple query for [new york], Google Social Search includes my friend's blog on the results page under the heading "Results from people in your social circle for New York." I can also filter my results to see only content from my social circle by clicking "Show options" on the results page and clicking "Social."
Yes, Uncle Google, your favorite Borg, is now mining your contacts and links in your Google profile. More info here….
Check it out, every Google user has a social circle at http://www.google.com/s2/search/social#socialcircle where mine revealed:
This is the network of connections Google uses to identify relevant social search results. It is based on a combination of the following:

* Direct connections from your Google chat buddies and contacts (32)
* Direct connections from links listed on your Google profile (259) such as Twitter and FriendFeed
* Secondary connections (3899) that are publicly associated with your direct connections
This and a whole bunch of more ways to filter your search results are there under the "options" link that I've been ignoring for months. So if I do a search on Arizona Place Names, I can drill into my social search using the options link:
And from those results, I can filter down to the social connections of one person listed in my "circle".
I'm not sure how I might use this, but its one of those little cards to file away in your deck of web tricks.