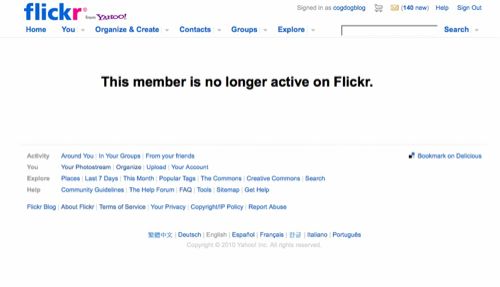 I always provide links back to the source as attribution for the flickr creative commons photos I use. Today I ran into the not so surprising case of wondering what to do, and what the ramifications for, if the original is no longer there?
Here's the case. A dark night in a web that knows how to keep its secrets, but one dog is still trying to find the answers to life's persistent questions. Me.
Oops, wrong story.
I was working on a site which has a banner collage made of 5 or 6 flickr cc licensed images. When I did the original, I downloaded them in 500px size (I keep the original cryptic file names, like "196478990_e68fe3c25a.jpg"). I also, and I wish I could say always, kept a text file with the credits info.
In making a credits page on the new site, I reached for my favorite tool, yep, the one I did myself, the Flickr CC Attribution Helper for Greasemonkey – a Firefox script that nicely inserts two kinds of copiable attribution strings right in the flickr page (only if it is cc licensed):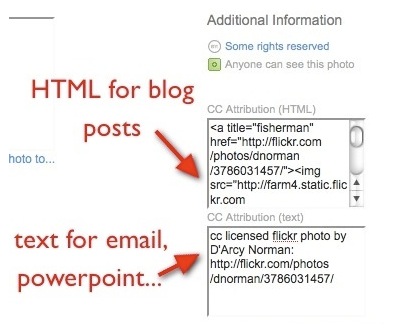 Now frankly I think this is best thing since

cc licensed flickr photo shared by mattburns.co.uk
Look! I just used it! Again.
I digress.
So I was going to use this as my usual way of attribution for flickr cc content.
Except, one photo came up with the message at the top; I guess the owner of the flickr account skipped town and closed down the account. Or make up any other story. Got hit by a meteorite. Killed their account in protest of not getting enough attribution (I was late again!).
But I got thinking, what happens then to the right to use it if the original is gone? And what would I link to as attribution?
I tweeted before really thinking…

Plenty of people reminded me that it was there in the license (doh) the legal-verbiage-I-click-without-reading, section "7b Termination"
Subject to the above terms and conditions, the license granted here is perpetual (for the duration of the applicable copyright in the Work). Notwithstanding the above, Licensor reserves the right to release the Work under different license terms or to stop distributing the Work at any time; provided, however that any such election will not serve to withdraw this License (or any other license that has been, or is required to be, granted under the terms of this License), and this License will continue in full force and effect unless terminated as stated above.
So once something is released into Creative Commons, it is there forever under the terms you originally got it, even if the original goes away, or the owner changes their mind. The only "termination" is if the user (me) does something to breach the terms of the license, like using something commercially when it is NC (??) or making jokes about lawyers.
Or even more clearly, in the Creative commons FAQ:
What if I change my mind?
Creative Commons licenses are non-revocable. This means that you cannot stop someone, who has obtained your work under a Creative Commons license, from using the work according to that license. You can stop distributing your work under a Creative Commons license at any time you wish; but this will not withdraw any copies of your work that already exist under a Creative Commons license from circulation, be they verbatim copies, copies included in collective works and/or adaptations of your work. So you need to think carefully when choosing a Creative Commons license to make sure that you are happy for people to be using your work consistent with the terms of the license, even if you later stop distributing your work.
,
And an even bigger "doh" for me because I can still provide attribution by photo credit (in text) without doing a link back. I am so hunk up on links and linktribution that anything else feels weak.
So my original record keeping works, in those days, before my cool as bread Greasemonkey script, I would keep text file logs (which was tedious, about a 4 trip copy/paste routine from web page to text file)
2572694217_200b3646af.jpg

http

:

//www.flickr.com/photos/19353461@N04/2572694217/
Where the first line is the file name I saved it, the second the link, and the third the flickr owner's name.
So thanks "scimanal" for the photo, where-ever you are.
On a related front, as a number of people are hopping off of Firefox for Chrome, I'll have to bone up on Chrome's extensions. But, a neat discovery I found was a way to enable Greasemonkey Scripts in Safari- an opensource thing called Greasekit. It's pretty easy, you first download a thingie called SIMBL.
You gotta love the geek cred behind this description:
Problem:
Some applications do about 90% of what I want.

Solution:
Develop my own applications.

Better Solution:
Patch the application myself…

SIMBL (SIMple Bundle Loader) – pronounced like "symbol" or "cymbal" – enables hacks and plugins. For instance, SIMBL enables PithHelmet to enhance Safari.
Wow, I am glad to have my PithHelmet!
Please ignore the diversion. Install SIMBL, its a small app that goes somewhere deep in the bowls of the computer. The download GreaseKit, more or less a small plug-in file that you bury about 7 folders deep in your home directory.
The next time you launch Safari, you have a Greasekit menu, where you can add Greasemonkey Scripts. I;ve not tried too many (well just mine, and it works):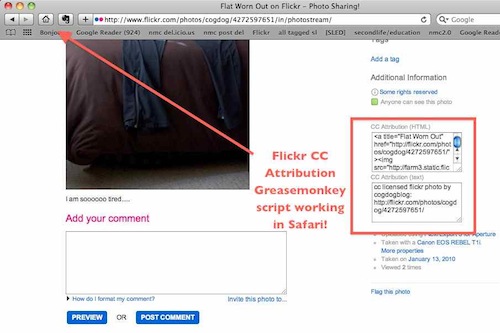 Keep those attributions a goin' Link if you can!